Often hailed as the world's greatest investor, American business magnate Warren Buffett has agreed a franchise deal with Berlin's Rubina Real Estate, a company that helps international investors from China, India and the Middle East to buy upscale residential property in the German capital.
Rubina said in a statement that the agreement with Buffet's Berkshire Hathaway HomeServices, for an undisclosed sum, "complements our real estate agency network perfectly."
The Berlin property agency sells apartments in sought after locations of the city such as Mitte, Köpenick or Zehlendorf, where a luxury three-bedroom apartment can set you back more than €1 million ($1.24 million).
Read more: Germany for sale: Why the cost of living in Germany is on the rise
Berlin still attractive
The deal allows Rubina to leverage the Berkshire Hathaway brand name, and is likely to be seen as a sign of continued confidence in the Berlin real estate market, which has undergone a huge property boom over the past decade.
Average property prices in the city have jumped 120 percent since 2004, and have risen by more than a third in just three years, while respected real estate analysts continue to cite Berlin as one of Europe's top real estate hotspots.
Rubina Real Estate CEO Carston Heinrich hailed the deal, saying that "demand for premium real estate ... not only brings capital into the city, but also networks and international influences."
Berlin will continue to become "increasingly important as an economic metropolis, as a lifestyle hotspot and as "investor darling,'' he predicted.
Missed the boat?
But one analyst warned the renowned US investor might have missed the biggest investment gains, because several recent studies have suggested the Berlin market is overheated and is either due or in the early throes of a correction.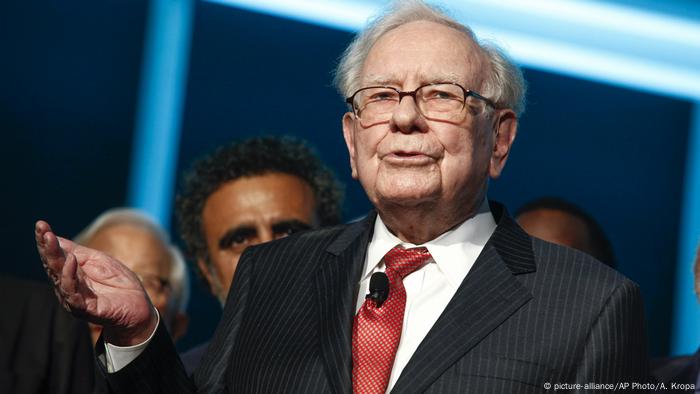 Known as the Oracle of Omaha (Nebraska), Warren Buffett is one of the world's richest and most respected businessmen
"If he [Buffet] is joining the party now, he's too late," Steffan Sebastian, a professor in real estate finance at the Regensburg-based IREBS International Real Estate Business School, told DW.
Read more: German retailer Aldi set to build 2,000 homes above its Berlin stores
Sebastian agreed if the billionaire investor's franchise deal signals that Berlin real estate is still a good idea for international investors, "many, many people will follow."
But he warned that it may be a false signal, as years of runaway demand for residential property in Berlin, as well as Munich and Frankfurt, begin to subside.
"I'd maybe give it two years, but probably not five," Sebastian told DW, conceding that due to complexities in the real estate market, growth could still have some way to go.
Read more: Deutsche Bank CEO John Cryan warns of asset bubbles, calls on ECB to change course
Prices cooling
The latest spring 2018 investment report from German Property Federation ZIA backs up his view, suggesting that Berlin's housing supply is loosening up, while inward migration has noticeably slowed, which will both likely have a cooling effect on prices.
But Rubina's Heinrich said Berlin remained "the European boomtown, and that compared to other cities like London or Paris, real estate in the German capital remains an attractive investment."
Backing up Heinrich's assertion was a report released in January by Germany's largest lender Deutsche Bank, that predicted demand for housing in Berlin is likely to remain high beyond 2020, thanks to what it said would be a population growth of 250,000 over the next 15 years, and an increased desire by residents to acquire their own homes.
Home ownership rates are much lower in Germany than in many other countries; in Berlin it's just 15.6 percent, according to the 2011 census.
The tie-up between Berkshire Hathaway and Rubina is unlikely to sit well with many Berlin residents, who blame property speculators who chase high returns for annual rent rises that have averaged five to seven percent in recent years.