The United Nations General Assembly has adopted a resolution that calls on Serbia to enter direct talks with Kosovo.
The resolution adopted on Thursday was the result of a compromise between Serbia and the 27-member European Union. Serbia hopes to join the EU and after weeks of diplomatic pressure, dropped elements of the resolution that directly challenged Kosovo's independence.
The United Nations has asked the European Union to take a leading role in "facilitating a process of dialogue" between Serbia and Kosovo to settle their sovereignty dispute.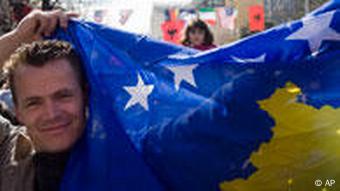 Serbia reconfirmed that it 'does not recognize the independence of Kosovo'
Kosovo unilaterally declared its independence from Serbia in February 2008 after 11 years under UN administration. The majority of European Union countries and the United States have formally recognised Kosovo as an independent state. However, Serbia refuses to recognize the split and continues to claim Kosovo as a province.
Session delayed
Underlining that hostility between Belgrade and Pristina is far from over, the General Assembly session in New York was delayed for two and a half hours as Serbia objected to the presence of Kosovo officials in the chamber.
Serbia demanded that the president, prime minister and foreign minister of Kosovo be ordered out of the assembly. Kosovo is not a member of the UN.
The dispute was resolved when the officials were signed in as guests of Britain, France, Germany, Italy and the US.
Introducing the resolution, Serbian Foreign Minister Vuk Jeremic asserted that Serbia "does not and shall not recognize the unilateral declaration of independence of Kosovo."
However Jeremic added Belgrade hoped the resolution would "create an atmosphere conducive to the establishment of a comprehensive compact of peace between Serbs and Albanians."
Albanians make up 90 percent of the Kosovo's population, with a Serb minority mostly in the northern areas bordering on Serbia.
Author: Catherine Bolsover (Reuters/AFP/AP)
Editor: Chuck Penfold