Months of rumors that his job was on the chopping block did not soften a rough landing for Rex Tillerson as he flew home early from an official five-country tour of Africa. A number of US media outlets reported that he learned of his firing as secretary of state the same way many Americans did — from a tweet by President Donald Trump unveiling Mike Pompeo as his new top diplomat.
The shake-up comes as Trump prepares for a possible meeting with North Korean leader Kim Jong Un as part of an unprecedented effort to break a decadeslong impasse on denuclearizing the peninsula. Tillerson was caught flat-footed when the White House announced the surprise plan last week.
Uniting State Department and White House
In contrast to Tillerson, who explicitly ruled out regime change in North Korea, Pompeo has been more hawkish in his public comments. He has hinted at wanting to remove Kim from control over his nuclear arsenal.
"While he's stopped short of actually advocating for regime change, he's come perilously close," said Isaac Stone Fish, a senior fellow at the Asia Society in Washington. "He's joked about assassinating Kim Jong Un."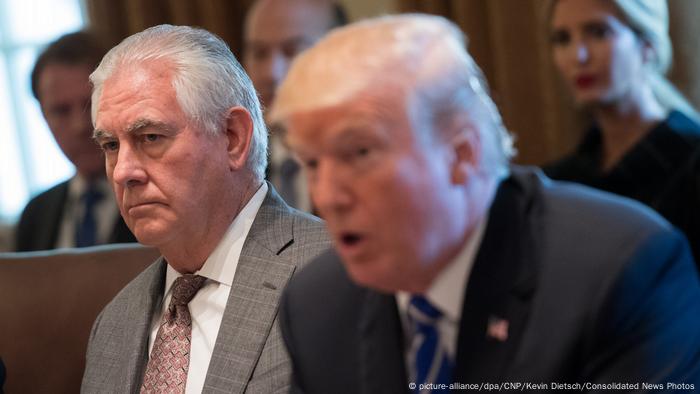 Tillerson and Trump were often at odds over North Korea, among a host of other issues
Over the weekend, Pompeo said the US would not make any concessions ahead of potential talks, but that North Korea must stand by its offers to halt nuclear and missile testing as they take place, allow the continuation of joint military exercises between the US and South Korea, and leave denuclearization open for negotiation. The proposed summit between Kim and Trump could go ahead with or without Pompeo in office, but his appointment is a surprising move ahead of what would be a delicate, high-stakes meeting.
Read more: Iran nuclear deal under pressure as Pompeo heads to State Department
Another point of divergence between Tillerson and Pompeo is the international nuclear deal negotiated with Iran in 2015 under former President Barack Obama. Tillerson had supported keeping the landmark agreement, while Pompeo has criticized the Obama administration's diplomacy and promised to "roll back" what he considered a "disastrous" deal.
Up next: Confirmation
Pompeo is widely seen as a loyal ally of Trump. In a press briefing Tuesday, Trump praised the outgoing secretary of state but said Pompeo shared his way of thinking.
"With Mike, Mike Pompeo, we have a very similar thought process. I think it's going to go very well," Trump said. "Rex is a very good man. I like Rex a lot. I really appreciate his commitment to service and I'll be speaking to Rex over a long period of time."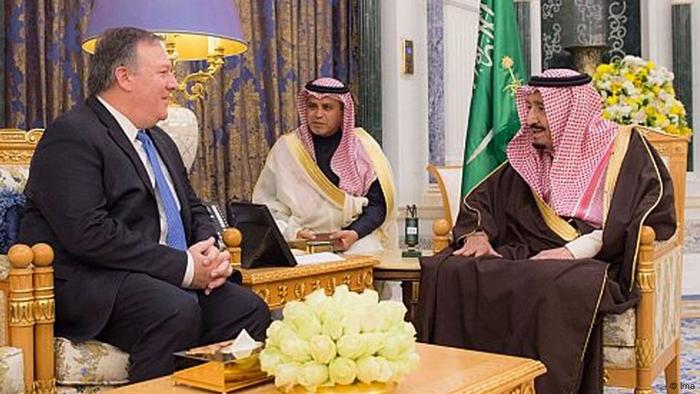 Pompeo has not been shy about adopting Trump's hawkish foreign policy positions
Despite having been confirmed by the Senate as CIA director, Pompeo's record on other foreign policy issues also suggests the nominee won't slide through this next confirmation process without a shakedown. Senate Democrats are likely to push back hard during the hearings, potentially creating another platform for publicly airing details relating to the Russia investigation.
Russia questions
Pompeo previously has stated that Russia meddled in the US election, but that there's no evidence it made a difference in the result. On Sunday, he said, "There's not been a single indication that any vote was changed ... [or that] the ballots were tampered with."
Tillerson had also contradicted the White House by agreeing with the British government in its finding that Russia tried to poison a former spy in the UK. Norm Eisen, a senior fellow at the Brookings Institution think tank in Washington, tweeted that the outgoing secretary of state had committed the one "unpardonable sin in Trump world."
Before his tenure as CIA director, Pompeo served as a Republican congressman from Kansas. He was a tough critic of Democratic presidential candidate Hillary Clinton and a major player on the House Select Committee on Benghazi. He was vocal in accusing her of a major cover-up of the 2012 attack on a US consulate in Libya.
Tillerson had been seen as out-of-step with the president for months. In Pompeo, Trump is hoping for a secretary of state who will heel to the hard-line thinking of his administration.