The UN Assistance Mission in Afghanistan (UNAMA) said 2,798 Afghan civilians died in the first nine months of this year, while another 5,252 were wounded.
There were 649 Afghans killed or injured by air strikes in the first nine months of 2018. That is more than in any full-year period since UNAMA began keeping records in 2009. It represents an increase of 39 percent over the same period in the previous year.
Read more: US-Taliban talks could undermine Afghan government
UNAMA blamed most of the civilian deaths and injuries on suicide attacks carried out by militants.
The Taliban, Afghanistan's largest militant group, was responsible for 35 percent of the attacks and the "Islamic State" (IS) accounted for 25 percent, according to UNAMA.
UNAMA wrote that "attacks deliberately targeting civilians and the murder of civilians are serious violations of international humanitarian law that amount to war crimes."
"As there can be no military solution to the fighting in Afghanistan, the United Nations renews its call for an immediate and peaceful settlement to the conflict," said Tadamichi Yamamoto, UNAMA chief in Kabul.
Particularly of concern was the targeting of ethnic and religious minorities, Yamamoto said. Recently, IS has been taking credit for brutal assaults on Afghanistan's mainly Shiite Hazara minority.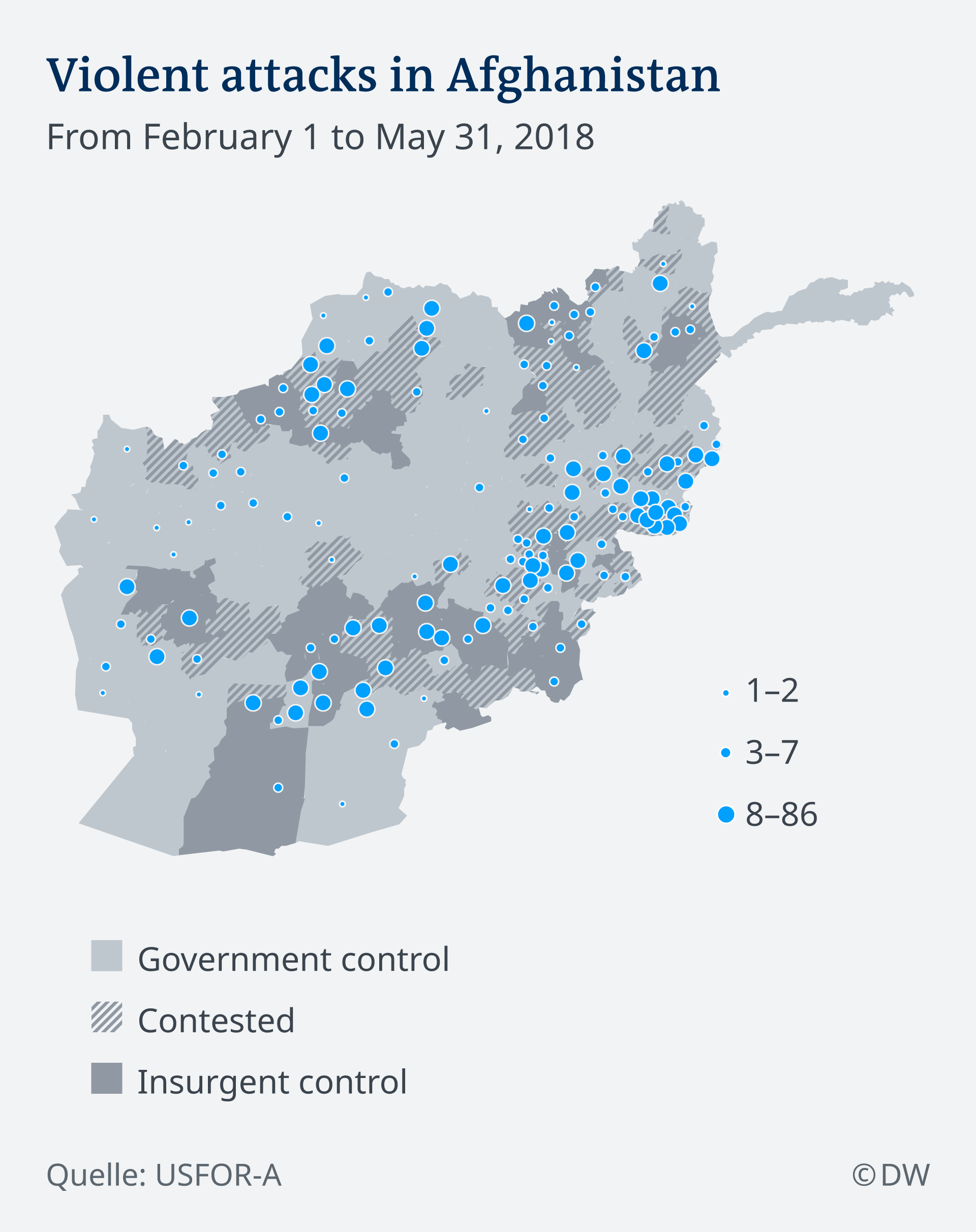 US carries out more airstrikes, uses more weapons
The United States is the only foreign force known to carry out air strikes in Afghanistan.
US and Afghan forces have significantly increased the number of air attacks against Taliban and IS insurgents in the past year.
Read more: Why are Kabul and Washington not participating in Moscow-led Taliban talks?
The US employed 746 munitions in July — the highest monthly total since November 2010, according to the most recent US Air Forces Central Command data.
That is more than double the 350 munitions used in July 2017, a month before US President Donald Trump announced his new strategy for Afghanistan. This gave more flexibility for American forces to pursue militants.
Afghanistan's upcoming parliamentary elections on October 20 have led to security officials warning that attacks are likely to increase on locations such as polling stations and other election sites, many of which are located in schools, mosques and health clinics.
law/jm (AFP, AP, Reuters)
Each evening at 1830 UTC, DW's editors send out a selection of the day's hard news and quality feature journalism. You can sign up to receive it directly here.