The memo, titled "Arab Human Development Report 2016: Youth and the Prospects for Human Development in a Changing Reality," claimed that unemployment and lack of opportunity has led to hopelessness among youth in the Arab region. It also highlighted how crisis in the Arab region has caused upheaval in the lives of young people.
"Youth unemployment is hugely costly to the region's societies and requires a major turnaround in policy thinking about jobs. The region needs to create more than 60 million new jobs in the next decade," stated the report.
Individuals under 30 make up over two-thirds of the population in Arab countries. This huge, well-educated and well-connected demographic could play a significant role in bringing economic growth to the Middle East.
Youth unemployment in the Arab world is consistently higher than other regions - 25-30 percent on average
Hope for reform?
The report also argued that many reforms are due on the behalf of Arab governments with the ultimate objective being "to rebuild societies with full respect for freedom and human rights."
Markus Loewe, research team leader on the Middle East and North Africa at the German Development Institute in Bonn agrees with this need for reform. He believes that the social unrest that marked the 2011 revolutions in Tunisia, Egypt, Syria and other Arab countries could happen again in the near future.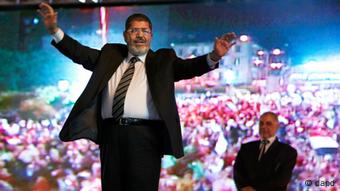 Mohammed Morsi's tenure as Egypt's first democratically-elected president was short-lived - he was ousted in a military coup in 2013
"I'm afraid that there will be another wave of protests and rebellion in several Arab countries over the next couple of years," he told DW. "One reason is the high youth unemployment. But another one is the lack of political reforms. With the exception of Tunisia, the Arab countries are not really on a path toward democracy - the people lack a political voice. The governments fail to deliver social and economic reforms. Many countries are based on old sources of income and people are frustrated - there's no progress anywhere."
Loewe suggests that governments should ask private firms what type of vocational training they are looking for. The government can then invest into that training for a more qualified workforce, as a means of increasing employment.
"Public policy should steer toward more protection for the poorest groups in society," he added. "Transparency and accountability also need to be promoted, especially when it comes to the judiciary."
Challenges for women
The report also pointed out the unique barriers that young women face in finding a job in Arab countries. It stated that "young women in Arab countries must toil disproportionally to find meaningful, fulfilling and properly remunerated employment, especially in their first jobs after university."
"There are social and cultural barriers for women finding work. Many in the Arab world still see a woman's place as in the home," said Senior Research Officer Dina Mansour-Ille of the UK-based Overseas Development Institute.
Mansour-Ille, who is originally from Egypt, also pointed out that some of these barriers still exist in Europe and are not necessarily exclusive to the Arab world.
"Here in Europe there is still a disparity between the incomes of women and men," she told DW. Women in Western countries often earn less money for the same work, not unlike Arab countries.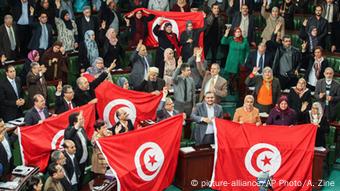 Promoting dialogue and civic engagement among youth was key to Tunisia's transition to democracy
Civic Engagement
Reforms are not the only path to change. The report suggests that civic engagement could make an impact from the ground-up, and help youth feel like they have a stake in their societies.
Mansour-Ille also agreed with this notion. "One of the problems is there is a top-down approach to development in the Arab world, the governments in these countries are very paternalistic. The youth should not necessarily wait for reform but also create projects and opportunities for themselves," she said.
Tunisia, the only Arab country to have transitioned successfully to democracy in the wake of the Arab Spring, allowed its youth to play a central role after its revolution in 2011.
"Governments need to focus on the generation of tomorrow," Mansour-Ille concluded.