Virginia Gamba, the UN special representative for children in armed conflict, told an informal UN Security Council meeting in New York on Friday that the rate of documented attacks had risen in 2017, compared with the 753 verified attacks on schools and hospitals in all of 2016.
Gamba cited deadly and traumatic situations for school-age children in Yemen, South Sudan, Syria, Afghanistan and the Democratic Republic of Congo.
Targeting schools ranks as a violation of international humanitarian law. In 15 of the 20 nations, troops or rebel forces had seized schools for military purposes. Schoolgirls were often hindered from attending school or killed to halt female education.
Joy Bishara, one of Nigeria's kidnapped Chibok girls, told the meeting that her attackers had repeatedly said "do not go to school." After her ordeal, she said she never felt safe.
Read more: Nigerian lawyer wins award for educating Boko Haram children
Gamba said her office had verified 174 attacks on schools in Congo between April and June, mostly in its southern Kasai region, the scene of dissent against President Joseph Kabila.
"It will take years, if not decades, before this region and its children recover from the lost educational opportunities as a result of just three short months of violence," she said.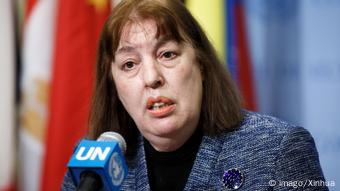 Plight of children in war zones is 'deeply worrying': Gamba
Education directly targeted
Earlier this week, Gamba said education for girls remained a direct target in Afghanistan.
"In one incident verified by our child protection colleagues in April, the Taliban forced 28 school principals and one teacher to attend a meeting where they demanded a change of the curriculum and stated that no girls over 11 years of age should attend school," said Gamba.
"These types of incidents mean that children living in conflict-affected countries are more than twice as likely to be out of school as those living in countries at peace."
Similarly, more than 80,000 children in Afghanistan had not received intended polio vaccinations in the second quarter of this year.
Last week, the UN put the Saudi Arabian-led coalition fighting rebels in Yemen on a blacklist for carrying out 38 attacks on schools and hospitals in 2016, killing and maiming 683 children.
Jo Becker, children's rights advocacy director at Human Rights Watch, has slammed Saudi-led coalition actions in Yemen.
"The coalition needs to stop making empty promises to exercise caution [and] take concrete action to stop thee deadly unlawful acts," said Becker.
Read more: UNICEF: Number of unaccompanied refugee children reaches 'record high'
Acute impacts on children
In war-torn Syria, the hampering of humanitarian assistance deliveries by warring parties was still having "acute impacts on children."
Since the beginning of the year, "only 38 percent of persons in besieged areas and 12 percent of the persons in hard-to-reach areas have been reached," said Gamba, adding that the "Islamic State" was impeding all deliveries.
Gamba pointed out that humanitarian access had also been very difficult in Myanmar.
Gamba, who became special representative for children in May, said significantly more resources including personnel were needed to boost work with regional organizations and to enhance legal protection frameworks for children.
While presenting his report summarizing harm to children in armed conflicts last week, UN Secretary-General Antonio Guterres said he was "appalled" by the more than 8,000 children killed and injured, and the sexual violence against girls and boys.
ipj/cmk (AP, AFP)