After releasing a report on the latest totals of unaccompanied minor refugees on Wednesday, UNICEF called on world leaders to do more to protect children who are crossing borders alone.
In 2015 and 2016, the United Nations Children's Fund said there were 300,000 unaccompanied and separated migrant children worldwide. The figure is almost five times higher than the 66,000 children counted in 2010 and 2011.
Out of the 300,000 children, around 100,000 of them were caught trying to cross the border from Mexico to the United States, UNICEF said.
Around 170,000 young migrants and refugees sought asylum in Europe in 2015 to 2016 after surviving the dangerous journey across the Mediterranean Sea. Last year, hundreds of children are believed to have drowned while attempting the journey.
The total number of unaccompanied children is believed to be much higher as the UNICEF counts only include solo-traveling children who were registered as part of an asylum claim or registered at a border.
"The number is just the tip of the iceberg," UNICEF Eeputy Executive Director Justin Forsyth said in a statement.
A vulnerable and growing group
Wednesday's report also states that from 2016 until February of this year, 92 percent of minors who reached Italy by crossing the Mediterranean from Libya were traveling alone - compared to 75 percent in 2015.
The UN body said that the growing numbers of unaccompanied minors are particularly vulnerable human smugglers.
"Ruthless smugglers and traffickers are exploiting their vulnerability for personal gain, helping children to cross borders, only to sell them into slavery and forced prostitution," Forsyth said.
"It is unconscionable that we are not adequately defending children from these predators," he added.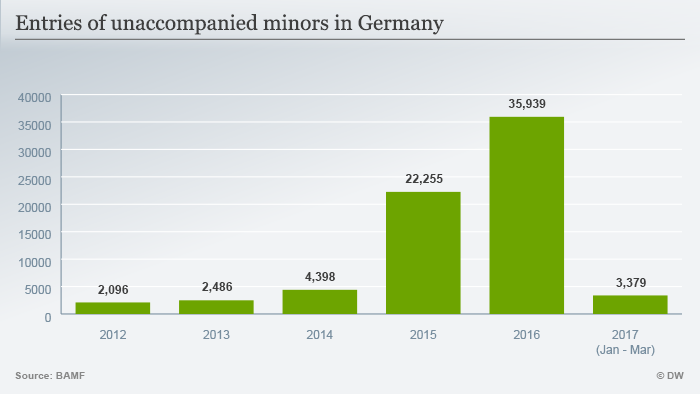 Ahead of next week's G7 summit in Italy, UNICEF urged world leaders to adopt their six-point agenda improve protections for refugee and migrant children.
The agenda calls for countries to stop detaining children, improve efforts to keep families together and give children access to education and healthcare.
rs/sms (AP, dpa, Reuters)