A key question for Ukranian President Viktor Yanukovych during his trip to Brussels on Monday (25.02.2013) for a European Union summit is how the Ukrainian justice system is dealing with opposition politicians. The former Ukrainian Prime Minister, Yulia Tymoshenko, continues to sit behind bars. Her punishment was the source of heavy criticism at the last summit between the EU and Ukraine.
However, past EU-Ukrainian meetings have shown restraint on the issue, as in February when the EU Commissioner for Enlargement and European Neighborhood Policy, Stefan Füle, visited Kiev. The EU, for example, is fully prepared to assist Ukraine in modernizing its gas pipelines. A pilot project is already under way, with Deutsche Bank and Ferrostal, a manufacturer of processing plants, taking part.
Ukraine's natural gas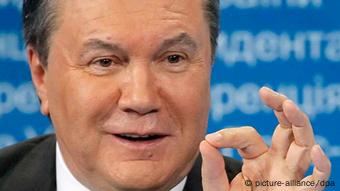 Viktor Yanukovych has a trump card with his country's energy resources
Notwithstanding Ukraine's role as the major transport route for Russian natural gas to Europe, there's another Ukraine-related topic that appears to be of far greater interest to both parties. It is related to supplies of shale gas under Ukrainian soil. In order to reduce its dependence on Russian gas deliveries, Ukraine would like to develop its own gas industry with the help of western companies. In January 2013, Kiev signed an agreement with Shell. It is still in billion-dollar negotiations with energy giants Exxon Mobil and Chevron.
In Brussels, Kiev's plans have not gone unnoticed. EU Energy Commissioner Günther Oettinger told participants at the Munich Security Conference in early February that, some day, Ukraine could export its own gas to Europe. The news was enthusiastically received at the conference, especially the idea of developing shale gas production. The name 'Tymoshenko' was never uttered - at least not publicly.
Economic interest, despite criticism
But the question is: Will the European Union do business with Ukraine in spite of the fact that the country imprisons opposition figures? Ruprecht Polenz does not believe it. The chairman of the foreign affairs committee of the German parliament told DW that he sincerely hoped that the persecution of opposition leaders in Ukraine would end.
The special representative for energy issues in the US State Department, Carlos Pascual, told DW that Washington would not restrain its criticism just to do more business with Ukraine. "The United States, Europe and the international community have very clearly expressed their concern about the imprisonment of Yulia Tymoshenko and the condition of her health," the former US ambassador to Ukraine said, adding that this position would not change. At the same time, however, Washington was interested in expanding its economic relations with Ukraine, Pascual said.
Walking a fine line on Ukraine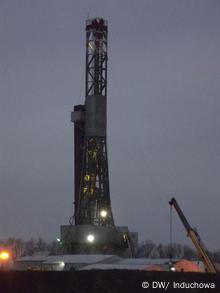 Shale gas drilling in Biliayevska, Ukraine
The West is walking a fine line on Ukraine, says Roland Götz, a former energy expert with the German Institute for International and Security Affairs (SWP) in Berlin. "On the one hand, it wants increased cooperation and better ties, and on the other hand, no one is happy with the current political leadership in Ukraine or Russia because they are so authoritarian," notes Götz.
In his view, the strategies of western energy companies have nothing to do with the foreign policies of the West. "Companies, like Shell, Chevron or Exxon, follow a long-term commercial strategy in which the domestic political climate in Ukraine has no importance" Götz said.
Will Brussels alter its strategy?
Western companies would pursue economic cooperation agreements with Russia, even though political freedoms there are even more restricted than in Ukraine, emphasized Jonas Grätz, from the Center for Security Studies at Zurich's ETH technical university, in an interview with Deutsche Welle. He does not believe that the United States and the EU are interested in pursuing a containment policy toward Ukraine, like they did toward the old Soviet Union. The West has "a vital interest in keeping Ukraine independent," he said.
Grätz thinks that the EU is on the verge of changing its policy toward Ukraine because, so far, it has been unsuccessful with its threats not to sign the EU-Ukraine Association Agreement. Brussels could now exchange the 'stick' for the 'carrot', wagers Grätz. The EU is hoping that it can make Ukraine "see the concrete advantages to cooperation and in doing so achieve political changes."