German broadcaster "Deutschlandfunk" reported on Wednesday that more than 4,000 cases of ill treatment and trafficking have been documented by human rights organizations during the ongoing Ukrainian conflict. The figure is likely to be even higher, however, with civilians as well as members of military associations among the victims.
"We can show that 4,000 people have been held hostage last summer," said Oleksandra Matwitschuk of the Centre for Civil Liberty.
According to the report, the vast majority of disappearances and ill treatment took place at the hands of pro-Russian separatists. Russian citizens - 58 of whom were identified by name - were also arrested and suffered ill treatment, the Center said. Enforced disappearances and torture by the Ukrainian side were also reported, although there is no systematic recording process in place.
Converted torture prisons
Interviews with victims and witnesses, which were recorded by a composite of 17 Ukrainian human rights organizations, will be forwarded to the International Criminal Tribunal in The Hague.
At least 79 torture prisons have been identified by human rights organizations in the so-called people's republics of Lugansk and Donetsk, with the engineering institute of the University of Lugansk also being converted into an illegal prison.
Social Democrat (SPD) and Russia representative for the German government, Gernot Erler, responded to the figures, saying he hoped for a legal line of action.
"Exemption from punishment must be avoided," Erler told "Deutschlandfunk."
Contact Group meets in Minsk
The report on Wednesday came as Minsk prepared to hold another round of meetings on settling the Ukraine crisis. The Contact Group, which consists of representatives from Ukraine, Russia, the Organization for Security and Co-operation in Europe (OSCE) and the self-proclaimed republics, last met in the Belarusian capital on April 29.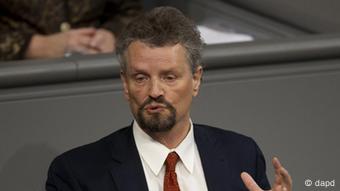 Russia representative for the German government, Gernot Erler
More than a year has passed since Ukraine and pro-Russian separatists from Donetsk and Luhansk agreed to a settlement in Minsk which contained 13 provisions. The settlement is actually known as Minsk II, because the first ceasefire lasted only a few months. Although there are currently no large-scale battles being fought, there is also no total ceasefire.
Two-year conflict
The crisis first erupted following a deadly popular uprising that started in the winter of 2013. The revolt ultimately ousted former pro-Russian President Viktor Yanukovych, sparking a pro-Russian separatist insurgency in eastern Ukraine. Russia followed up by annexing the Crimean Peninsula in March 2014.
Western allies have repeatedly accused Moscow of supporting pro-Russian separatists in the region with troops and weapons - claims which Russia continues to deny.
According to UN figures, almost one million people have been internally displaced by the conflict and more than 500,000 children directly affected.