UK Prime Minister Theresa May had called Thursday's snap elections to strengthen her hand in Brussels, but theloss of her Conservative majority has plunged the Brexit process into disarray just over a week before talks are scheduled to begin.
German Foreign Minister Sigmar Gabriel said the vote showed just how unpopular May's Brexit plan was among the public. He added that Britain should rethink how it leaves the EU.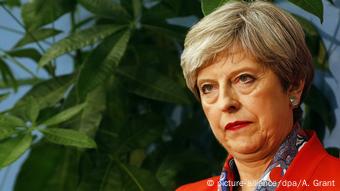 Germany said May should reconsider her Brexit strategy
"The message from this vote is: hold fair talks with the EU and think again whether it is really good for Britain to leave the EU in this manner," he told reporters on Friday, adding that he hoped "a new government will be formed quickly with which we can hold serious negotiations."
"No government, no negotiations" was what Günther Oettinger, the European commissioner for budget and human resources, told the German public broadcaster Deutschlandfunk on Friday. "With a weak negotiating partner, there is a risk that the negotiations will go badly for both sides," he said.
EU Council President Donald Tusk was more blunt, warning that even if talks did not have a start date, they will end in March 2019.
Even May's own Tories have begun questioning her judgment in calling Thursday's election three years early and risking the stable 17-seat majority she inherited from David Cameron, who stepped down last summer after staking his own legacy to the Brexit referendum.
Nevertheless, the defiant prime minister said her Conservatives could deliver "a period of stability" ahead of talks toward the Brexit. Later on Friday, May is to ask the queen for permission to form a minority government supported by Northern Ireland's Democratic Unionist Party, which was in favor of the leaving the European Union.
'Let's not rush'
The Tories won fewer than 320 seats, short of the 326 needed for a majority in Britain's 650-member House of Commons. Labour, the main opposition party, gained more than 30 seats to top 260.
"Mrs. May, who was supposed to emerge strengthened, lost her bet and is therefore in a less-than-clear situation, because the truth is that we don't really know what the governing situation is this morning," European Economy Commissioner Pierre Moscovici told France's Europe 1. Asked whether talks could open June 19 as planned, he said: "Let's not rush things, but either way, we are ready."
Czech Foreign Minister Lubomir Zaoralek was slightly less generous: "The results confirm the loss of support of the ruling party just as the polls indicated. Nonetheless I believe it will be possible to form a majority cabinet quickly and after a series of delays finally start the Brexit negotiations. For several reasons, the rest of EU has been anxiously waiting for GB over a year."
Dutch Prime Minister Mark Rutte offered his own cautious evaluation on Friday. "The British people have chosen," he said, according to the French news agency AFP. "What the new setup means for Brexit, we will have to wait and see."
The EU finished its preparations for Brexit talks in May and named Michel Barnier the bloc's chief negotiator. On Twitter, he said he was ready to start talks when the UK sent someone to the table.
"Brexit negotiations should start when UK is ready; timetable and EU positions are clear," Barnier said. "Let's put our minds together on striking a deal."

mkg/sms (Reuters, AFP, dpa, AP)