The EU's top court ruled Monday that the United Kingdom could stop its plan to exit the European Union unilaterally without other member states having to approve the decision.
The ruling by the European Court of Justice (ECJ) came a day before British lawmakers were due to vote on Prime Minister Theresa May's Brexit deal, with MPs expected to reject the proposals.
"The United Kingdom is free to revoke unilaterally the notification of its intention to withdraw from the EU," the ECJ said. It explained that the option of reversing Brexit "exists for as long as a withdrawal agreement concluded between the EU and that member state has not entered into force..." or "for as long as the two-year period from the date of the notification of the intention to withdraw from the EU..."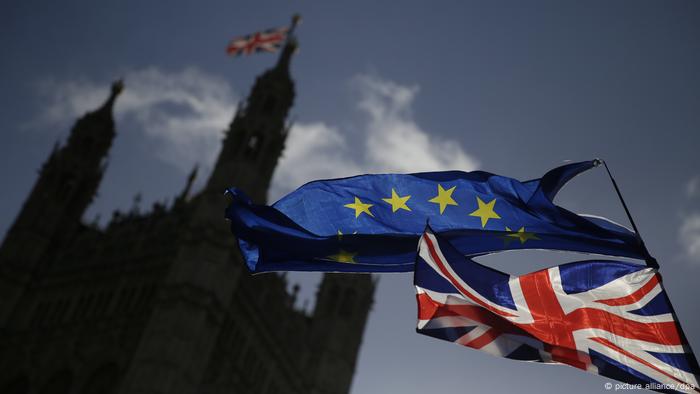 Three statements on Brexit are to be made in the House of Commons
Brexit vote could be called off
On Monday, May said she would make a statement to parliament at 15:30 UTC (3.30 p.m. local time). House of Commons Leader Andrea Leadsom is also give a statement, followed by Brexit Secretary Stephen Barclay.
The announcement fueled speculation that Tuesday's vote would be postponed.
There were also reports that May had told her ministers she would go back to Brussels to secure "legally-binding assurance" the UK would not be trapped in the Irish backstop element of the deal indefinitely.
The provision aims to guarantee a post-Brexit open border between EU member Ireland and the UK's province of Northern Ireland. It would keep Britain under EU customs rules until superseded by new trade arrangements.
May's Conservative party and the country is deeply divided on the deal, which was agreed after 20 months of talks with the EU. May is facing opposition from hard-line Brexiteers who would allow the UK to leave without a deal with the EU, and others who demand a second popular vote on Brexit in the hope of not leaving the bloc.

May has repeatedly said that her deal offers the "cleanest break" with Europe.
Last week, an ECJ advocate general recommended that the UK should have the option of reversing its decision to trigger Article 50 of the Lisbon Treaty in March 2017, which launched the two-year withdrawal process.
The pound sank amid the political mire on Monday, hitting an 18-month low against the US dollar of $1.2660.
es,ng/jm (dpa, AFP)
Every evening at 1830 UTC, DW's editors send out a selection of the day's hard news and quality feature journalism. You can sign up to receive it directly here.