Only a few people know his real name. And when it comes to his past, it is hard to sift fact from fiction. When he was abducted by the rebels of the Lord's Resistance Army (LRA) on his way to school aged maybe 10, maybe 12, he told them his name was Dominic Ongwen. He hid where he came from, telling the LRA that his home was a village many miles away.
This was part of a survival strategy that parents drilled into their children in northern Uganda in the 1980s. At the time, the LRA was on a rampage in the region, bringing murder and mayhem. To this day, its leader Joseph Kony is one of the most wanted criminals in the world. The rebel group kidnapped tens of thousands of children, turning them into soldiers, sex-slaves and pack-carriers. Usually the children were forced right at the start to join an attack against their own village, where they had to mishandle or kill members of their family. That way the rebels made it impossible for the child soldiers to flee and try to return home.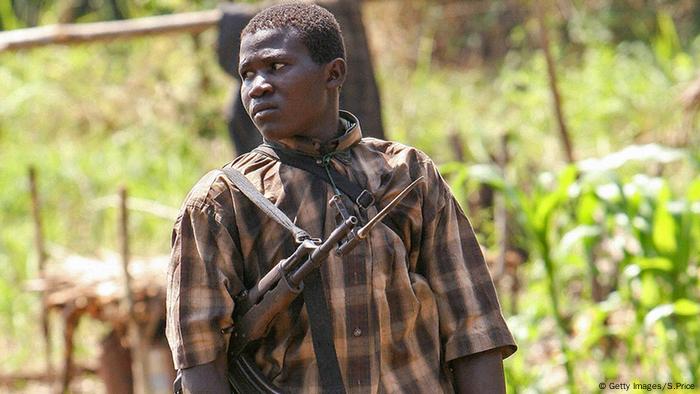 A young soldier of the Lord's Resistance Army
From child soldier to commander
Like thousands of other children, Dominic Ongwen had to watch the LRA kill innocent and helpless people. He himself was mishandled and indoctrinated. Kony aimed to turn Uganda into a fundamental Christian state, based on the Ten Commandments and the Bible. For the rebel leader, the end justified the means. An estimated 10,000 people were murdered by the LRA. More than two million were driven from their homes.
Dominic Ongwen was an obedient soldier. He must also have been an outstanding one, because he soon rose through the ranks of the LRA. He became one of Kony's deputies and treated other LRA rebels with the same brutality that he had known himself. In 2004, Ongwen's troops attacked the Lukodi refugee camp and massacred more than 60 people.
'Kony wanted to kill me'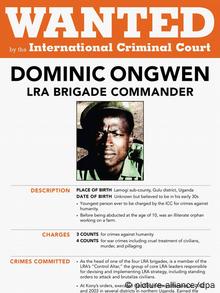 The ICC's search poster for Dominic Ongwen
In the following two years, the Ugandan army managed to expel the LRA from the country. Ever since then, the rebels have been sowing terror in neighboring Democratic Republic of Congo, South Sudan and the Central African Republic. But they are losing impact and are beset by internal rifts.
In 2005, the International Criminal Court (ICC) issued an arrest warrant for Joseph Kony and his four deputies, among them Dominic Ongwen. The USA offered a bounty of five million dollars (4.7 million Euros) for information leading to his arrest. In early 2015, Ongwen was detained by the Central African Seleka rebels, who handed him over to US soldiers. A few days later, he was transferred to The Hague. "I came out of the bush and turned myself in because Kony wanted to kill me," Ongwen said in an interview with a local Central African radio station before being handed over.
Victims hope for justice
The trial of Dominic Ongwen is set to start on December 6. The indictment includes a long list of crimes against humanity: murder, rape, torture, maiming, slavery and the use of child soldiers. "None of it is true," Ongwen said at his pre-trial in January.
It will be the first ICC case where the perpetrator is simultaneously a victim. "It is easy to argue that Dominic Ongwen was abducted as a child and therefore didn't know what he was doing. His lawyers will be pleading for an acquittal," said Charles Tolit Atiya, researcher at Makerere University's Human Rights & Peace Center. "But there are numerous people who fell victim to his brutality. They are maimed and lost all means of survival," Atiya told DW, adding that especially for them the trial in The Hague is an important sign that they can trust the rule of law. It will also lay bare much about the structure and inner life of the LRA, the researcher went on to say, as well as about the life of Dominic Ongwen. "Because nobody really seems to know who he is," Atiya concluded.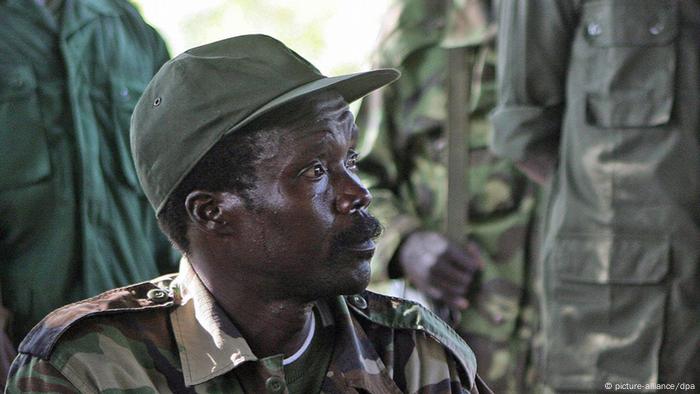 LRA leader Kony is one of the world's most wanted criminals