Tusk, speaking in Latvia on Friday, said one response to Wednesday's killing of 12 people at Paris' Charlie Hebdo satirical weekly would be to share airline passenger data so that dangerous people could be identified.
Socialist, Green, Liberal and far-left members of the European Parliament's Civil Liberties Committee joined forces in 2013 and voted down the proposal to exchange passenger data on the grounds that it would infringe on the privacy of EU citizens.
Tusk on Friday said Europe needed, however, to "do more."
"The European Union cannot do everything - but it can contribute to strengthening our security," Tusk said.
Speed up compromise, says Tusk
Visiting Latvia's capital Riga, he recalled that in reaction to the attacks on New York and Washington by al Qaeda hijackers in 2001, the EU had developed the European Arrest Warrant.
"Next week in Strasbourg I will appeal to the European Parliament to speed up work on the EU Passenger Name Record (PNR) system, which can help in detecting the travel of dangerous people," Tusk said.
The proposal would allow police and intelligence agencies to access several years of data of passengers traveling in and out of the EU.
Tusk, speaking on Friday as a French police manhunt for the two suspected terrorists focused on the town of Dammartin-en-Goele, said he would press for tighter security when he chaired next Monday's Brussels summit of EU leaders.
The former Polish premier said his initiative followed talks he had had Thursday with French President Francois Hollande.
In December, French Interior Minister Bernard Cazeneuve said jihadists were leaving Europe in growing numbers to fight in Iraq and Syria and called on the EU parliament to reached a "compromise" on the proposed PNR system.
Airlines based in the EU already share PNR data with security forces in Canada, Australia and the United States, including names, addresses and credit card numbers.
Germany society resilient, says Gauck
Hosting a New Year's reception in Berlin for 60 German recipients of awards for civil service on Friday, President Joachim Gauck said German society would not allow itself to be split by hate.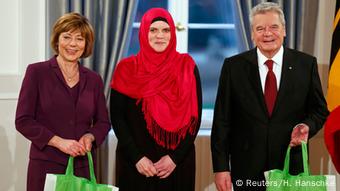 Gauck (r) hosted civic representatives in Berlin
"I am certain that our democracy is stronger than terror," said Germany's ceremonial head of state.
He described Wednesday's terrorist attack on Charlie Hebdo as an "appalling crime."
Gauck said democratic adherence was great within Germany society, comprising supporters of various political persuasions and religious, including Christians, Muslims and Jews.
"The attack shocks us but it will not shake our convictions," Gauck said, adding that Germany already had laws and institutions to counteract fanatiscism.
A person's name, origin or religion was not decisive, Gauck said.
"What counts for us is what binds our differences - the commitment to the constitution, the principle of civil law and humanity.
ipj/rc (AFP, dpa, Reuters)