Over four days this week, President of the European Council (EC) Donald Tusk is meeting seven leaders in key countries on the migrant route which leads across the Balkan states to Europe's north.
Tusk aims to find a common consensus on migration ahead of the March 7 meeting of European leaders with Turkey:
Chancellor Angela Merkel said the television pictures of migrants making their way into western Europe showed the urgency of next week's meeting in tackling the crisis: "The pictures show us clearly every day that there is a need for talks," adding that she was in regular contact with Greece's prime minister: "We need to deal with the difficult situation in Greece and ... return to the Schengen system as soon as possible."
The EC President's agenda begins with meetings in Vienna and ends in Istanbul:
Macedonia, along with other Balkan states including Serbia and EU members Slovenia and Croatia, have imposed a daily limit on the number of migrants allowed to enter their territory.
Macedonia and Calais hotspots
Tusk's tour comes as thousands of migrants remain unable to cross the Greek border into Macedonia and French authorities spent a second day clearing the so-called "Jungle" at the French port of Calais.
Macedonian police on Monday fired tear gas as some 300 migrants forced their way through a Greek police cordon towards a railway track. European Commission spokesperson Margaritis Schinas said on Tuesdaythe EC was "very concerned by the images [they] saw yesterday," adding that: "The scenes [were not their] idea of managing the crisis."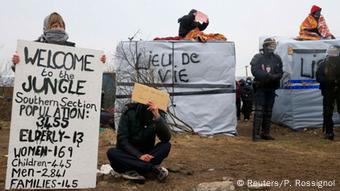 Migrants sit on their makeshift shelters as clearance of the Calais "Jungle" continues
In Calais, French authorities on Tuesday continued to dismantle the "Jungle" camp which has drawn hundreds of migrants hoping to reach the United Kingdom. The migrants had resisted moves to place them in temporary container-shelters, saying it would take them farther away from their goal of reaching Britain.
United Nations High Commissioner for Human Rights, Zeid Ra'ad Zeid Al-Hussein, criticized a "rising roar of xenophobia" towards migrants. "To keep building higher walls against the flight of these desperate people is an act of cruelty and a delusion," he said Monday.
The UN said over 131,000 migrants had entered Europe via the Mediterranean so far this year.
jm/ng (AFP, Reuters)