Turkey's Prime Minister Binali Yildirim is urging Turkish voters living in Germany to vote "yes" in the referendum to change the country's constitution. He has done so in a letter sent to all Turkish voters residing in Germany.
The letter, which lists all of the ruling AKP's (Justice and Development Party) "accomplishments," states that Turkey now has an historic opportunity. Moreover, it is written that: "You, who with the 'sweat' of your hands, have contributed to the progress that Turkey has achieved, can participate in the future of our country. Every single vote that is cast between March 27 and April 9 will contribute to the stability of our country."
The referendum would significantly expand the powers of the presidency, currently held by Recep Tayyip Erdogan.
Letter 'violates propaganda ban'
According to lawyer and former Green Party federal parliamentarian Mehmet Kilic, Prime Minister Yildirim, who is also the chairman of the AKP, has "violated the foreign election propaganda ban for Turkish political parties." Kilic points out that the law, which was passed in Turkey in 2008, prohibits political parties from propagandizing outside the country.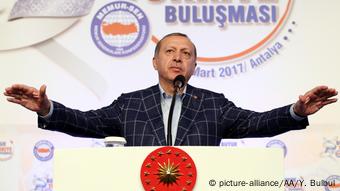 Erdogan is seeking to expand the powers of the presidency
Furthermore, Kilic says that people with dual citizenship also find themselves in a unique situation because the country in which they reside has priority. Thus, the letter is a violation of German law as well. "This means that the personal data of people with German as well as Turkish citizenship has been given to a political party in Turkey," says Kilic.
In this instance, people with dual citizenship have the option of contacting German authorities to lodge a complaint. But those who only have Turkish citizenship are also free to contact Turkish consulates or the Turkish Attorney General's Office to file complaints about their data being passed on.
Not the first such letter
Turkish voters living in Germany and the Netherlands received a similar letter bearing the signature of then-Prime Minister Ahmet Davutoglu in the run-up to Turkey's 2015 parliamentary elections. Daniel Strunk, a spokesperson for the state of North Rhine-Westphalia's Commissioner for Data Protection and Freedom of Information (LDI-NRW), reports that as a result, many Turkish voters in Germany filed complaints with German authorities stating that their personal data, such as name and address, had been collected without their consent.
"Three voters claiming to have received AKP propaganda contacted us. It was unknown just how the party had gotten their personal data," says Strunk.
Strunk also points out that foreign representatives do not fall under the LDI's jurisdiction. Hence, authorities were unable to initiate an investigation into how the AKP attained the information and if any laws had been broken in the process. "Therefore we advised the three Turkish citizens to contact the Turkish consulate," says Strunk.