Altan was detained for trial on Thursday evening shortly after being freed from a previous stay in custody, according to the state-run Anadolu news agency.
Anadolu reported that Altan came before a judge on Friday morning, accused of "membership in a terrorist organization."
Ahmet Altan, who is also a popular novelist, and his brother Mehmet were first held for questioning two weeks ago after prosecutors accused them of sending out "subliminal messages suggestive of a coup attempt" during a TV talk show one day before rogue troops tried to seize power in an abortive coup on July 15.
They will both face trial "for trying to overthrow the government or prevent it from carrying out its duties," media outlets said.
Outspoken critics
Mehmet Altan, an economics professor and political author who, like his brother, is an outspoken critic of President Recep Tayyip Erdogan, has remained in custody since his arrest.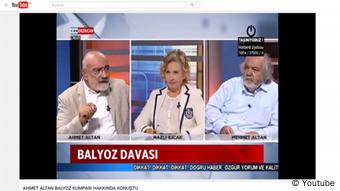 The brothers appeared on a TV show on July 14
Ahmet Altan, the former editor-in-chief of the now-defunct oppositional "Taraf" newspaper, has described the charges as "nonsense" in a post on P24, the news website he now writes for.
Since the failed coup, Turkey has detained more than 100 journalists and sacked or suspended some 100,000 police, soldiers, judges and civil servants. Tens of thousands of civil servants remain in custody under suspicion of having links to the US-based cleric Fethullah Gulen, whom the government blames of masterminding the coup attempt.
Gulen denies any involvement.
The government post-coup crackdown has drawn criticism from rights groups and many Western countries, including Turkish allies, who see Ankara's actions as a possible attempt to quash dissent.
tj/jil (Reuters, AFP)