The veteran journalist and his economist brother were detained early on Saturday in Istanbul as part of a far-reaching probe into the failed coup attempt, which Turkey blames on the followers of US-based cleric Fethullah Gülen.
For years, Ahmet Altan was a columnist with top dailies such as "Hurriyet" and "Milliyet," before founding the opposition daily "Taraf" in 2007, which he quit in 2012. "Taraf," which was seen as close to Gülen's organization, was closed down after the putsch attempt.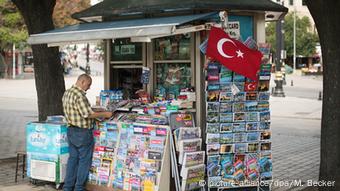 The media has been targeted in Turkey's post-coup purge
Ahmet and his brother Mehmet - who works as an economics professor at Istanbul University - have been questioned over their comments on a TV show a day before the coup attempt, according to local media.
The state-run Anadolu news agency said the pair had allegedly spread "subliminal messages" during their interviews.
Hours after their appearance, rogue soldiers attempted to overthrow President Recep Tayyip Erdogan's government. The ensuing violence saw 260 people killed, and Turkish authorities quickly restored order.
The Can Erzincan channel, which aired their interview, has also since been shut down, along with dozens of other media outlets which were deemed to be associated with Gülen.
Media closely scrutinized
More than 100 journalists have also been rounded up, along with tens of thousands of police, soldiers, judges and civil servants. Many of the reporters detained are better known for their leftist activism and not for sharing the religious world view of the Gülenist movement.
Among those arrested earlier is veteran journalist and writer Nazli Ilicak, who also appeared on the same talk show as the Altan brothers. The content of the talk show has not been publicized in Turkish media.
Gülen, who lives in self-imposed exile in the US, had built up a substantial media presence in Turkey. Most of his outlets have since been closed.
Turkey has called on the US to extradite the cleric, but Washington says the legal process must be followed.
Gülen denies all of Turkey's accusations.
mm/tj (AFP, dpa, Reuters)