A Turkish court on Tuesday ruled against the release of two Greek soldiers charged with espionage and illegally entering the country, according to Turkish media reports.
Both the privately run Dogan news agency and state-run Anadolu Agency reported the decision of the local court in the city of Edirne near the Greek border.
Anadolu said the court had ruled there was enough evidence to fear that the two men would flee if granted bail.
Read more: Greece issues formal complaint to EU and NATO over detention of soldiers in Turkey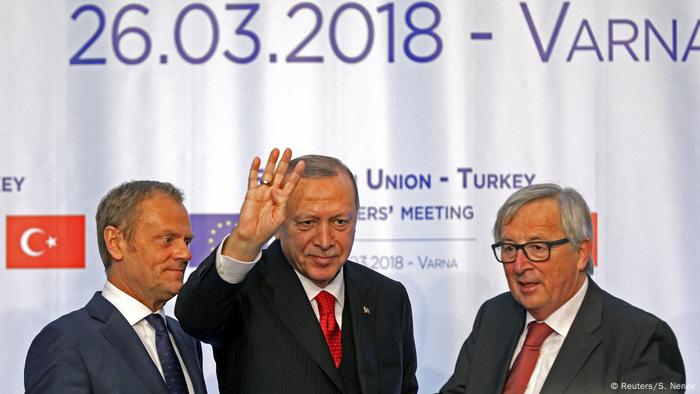 Juncker said during an EU-Turkey summit on Monday that the bloc was confident the soldiers would be released
Ignoring the EU
The European Union has put pressure on Turkey to return the soldiers to Greece since their arrest on March 2.
At an EU meeting with Turkish President Recep Tayyip Erdogan in Bulgaria on Monday, EU Commission President Jean-Claude Juncker said the bloc was confident Ankara would "solve that [the soldiers' release] in the best way."
Another EU meeting in Brussels a week prior had ended with EU leaders condemning Turkey for the arrest.
Read more: Turkish court rejects release of Greek soldiers
Borderline admission
The soldiers — a lieutenant and a sergeant — told Turkish authorities that they had mistakenly crossed the land border between Greece and Turkey's Edirne region.
Greece said bad weather had caused the men to lose track of where they were.
But Turkey said the pair have since testified that they tracked footsteps in the snow into Turkish territory and intended to send photos taken on their mobile phones to their superiors.
Read more: Turkey arrests Greek soldiers on espionage charges
Allied tensions
The case has put more strain on the already fraught relationship between the two NATO allies.
Both have fallen out over rights to explore gas reserves in the eastern Mediterranean and Turkish demands that Greece hand over eight Turkish soldiers allegedly involved in the failed 2016 coup attempt against Erdogan.
Greece has also requested the help of NATO and the UN to pressure Turkey into releasing the detained soldiers.
Read more: Turkish military officers in Greece: "I don't think extradition is on the table"
amp/kms (AFP, AP)
Each evening at 1830 UTC, DW's editors send out a selection of the day's hard news and quality feature journalism. You can sign up to receive it directly here.