Selahattin Demirtas' exit from the political stage in January was a blow to critics of the Turkish government. The co-leader of the left-wing Peoples' Democratic Party (HDP), is revered by many in the Turkish opposition as a principled democrat who refuses to be bowed by President Recep Tayyip Erdogan and his ruling Justice and Development Party (AKP). Many Kurds had expressed hope that the HDP under Demirtas could bring help bring an end to ongoing ethnic exclusion. However, Demirtas' decidedly dissident stance was not tolerated for very long. In November 2016, he was arrested on terrorism charges and has remained behind bars ever since. Turkey's state prosecutor is demanding a 142-year jail sentence for Demirtas.
Now that Demirtas has said he will not run for HDP leadership, speculation over his potential successor is rife. All will be revealed on February 11, when a new HDP leadership duo is elected at a party conference in Ankara. Organizers expect some 25,000 attendees. Numerous European left-wing parties, like Syriza from Greece, Podemos from Spain and Germany's Left party have been invited to act as observers.
Read more: Turkey: Mesale Tolu's husband, Suat Corlu, arrested again, others detained
The HDP is a Kurdish umbrella organization that unites several different groups active in western Turkey, including socialist parties, feminists, anti-militarists, environmentalists and LGBTI activists. As a matter of principle, the HDP leadership duo comprises one candidate with Kurdish roots and another with a Turkish and socialist background.
The name of one candidate has been common knowledge for a while: Pervin Buldan, a prominent figure in the Kurdish political movement. In June 1994, her husband, Savas Buldan, a Kurdish businessman, was abducted by unidentified armed individuals, tortured and then murdered during Turkey's "dirty war" against the Kurds during the 1990s.
Read more: Who are the Kurds?
In 2007, Pervin Buldan was elected to Turkey's parliament in the eastern town of Igdir, running on an independent ticket. Among other things, she joined the HDP commission that visited Abdullah Ocalan, leader of the banned Kurdistan Workers' Party (PKK), on the island of Imrali in efforts to broker a peace deal between Turkey's government and the PKK.
Recently, the identity of the other potential co-leader also emerged: Sezai Temelli, a former economics professor at Istanbul University who lost his job in the post-2016 coup purge.
Read more: Turkey's purges continue a year after failed coup
HDP seeks fresh start
HDP spokesperson and parliamentarian Ayhan Bilgen hopes the party conference will mark a fresh start. "Our party is five years old. And Turkey's political landscape has changed," Bilgen said. He does not want to party to change its basic principles. Instead, he thinks, the HDP should pursue them by employing new methods and reorganizing. "We can neither give up on our goal of democratizing Turkey, nor on fighting for the rights of Kurds," Bilgen insisted. He said his party should wage a democratic fight against Erdogan's state of emergency in order to counter the country's polarization.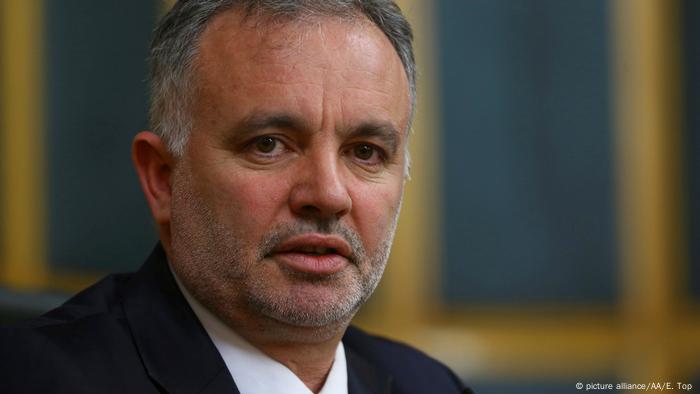 Ayhan Bilgen was released from jail, pending trial, in September
Sociologist Mesut Yegen from Istanbul's Sehir University agrees that the HDP should adhere to its main objective, which is to resolve ethnic conflict question by increasing democratic ountry access. "I don't think the majority of HDP-supporting Kurds will want to focus on the political project of establishing a united Kurdistan anytime soon," Yegen said.
But, Yegen said, the HDP's goals could be reformulated or reinterpreted. "The agenda should not be reduced to an alliance between the majority of Kurds and revolutionary left-wingers," Yegen said. He thinks that the HDP should link up with additional political groups to tackle its objectives with a new modus operandi. Allies could include "left-wing actors who are not part of these organizations" and "conservative democrats who are frustrated with the tyrannical politics of the ruling AKP party."
Read more: In No-Man's Land - Kurdish Members of Parliament in Turkey
Effective politics have not been easy for the opposition HDP since the parliamentary elections in June 2015, when it won 13 percent of the vote. According to HDP reports, a total of nine HDP parliamentarians, including Demirtas, are currently in jail on terrorism charges. Seven parliamentarians have lost their mandates. The arrested HDP parliamentarians face a combined 1,000 years in jail.
Things looks even more bleak on the local level, with 58 democratically-elected HDP mayors incarcerated. The HDP party is losing political influence. "The HDP is being prevented from being politically active. Its party officials are under pressure. It's difficult to say whether the party's ineffectiveness results from its incompetence or the pressure being exerted on it," said Mesut Yegen.