Suat Corlu, who works as a journalist in Istanbul and is a board member of the Socialist Party of the Oppressed (ESP), has been detained again by Turkish police on Thursday.
Like his wife, Mesale Tolu, a German journalist with Turkish roots who was freed from prison last month, Corlu has been accused of being a member of a terrorist organization.
Corlu had only been freed from jail on November 29. Both Tolu and Corlu were arrested and jailed in April 2017.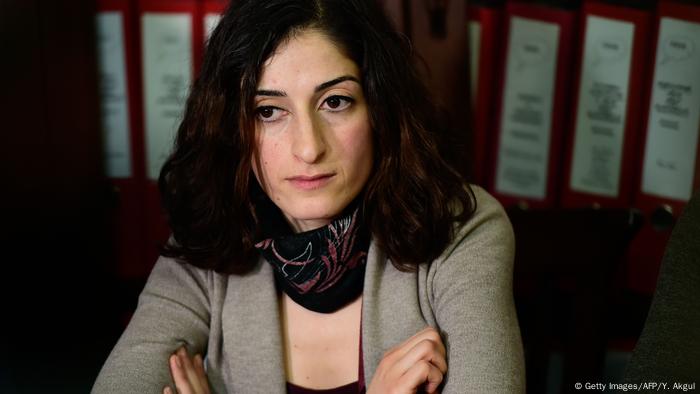 Corlu's wife, Mesale Tolu, has urged Germany to put more pressure on Turkey
Read more: Mesale Tolu urges more pressure on Turkey
At least four other activists were also detained in raids in major Turkish cities late on Thursday, which also targeted the Socialist Youth Associations (SGDF).
ESP said at least five of its members were arrested in the raids. The party is part of the pro-Kurdish HDP party, which has repeatedly been targeted by Turkish President Recep Tayyip Erdogan.
Tolu remains in Turkey
Tolu, who hails from the southwestern German city of Ulm and has German citizenship, had worked in Turkey for the ETHA news agency and as a translator. She was ordered to stay in Turkey after her release, a move that was criticized by human rights organizations.
The German government welcomed her release in December 2017, with Foreign Minister Sigmar Gabriel saying it was an "immense relief" and a "clear sign of thawing relations" between Turkey and Germany.
But he also reminded Ankara back in December that there were "still quite a lot of problems," alluding to Turkey's crackdown on civil servants, journalists and other people labeled as dissenters since a failed coup in 2016.
The arrest comes as Germany and Turkey had just resumed regular consultations after a break of almost a year following the arrest of German-Turkish journalist Deniz Yücel, who along with other journalists, remains behind bars.
ng/sms (dpa, Reuters)