Turkish police raided a news magazine on Monday and detained one of its senior editors over a photomontage on its cover portraying President Recep Tayyip Erdogan taking a selfie at a soldier's funeral.
Counterterrorism police arrived at "Nokta" magazine's headquarters in the Okmeydani district of Istanbul in the early hours of the day, breaking into and searching the offices.
The magazine's editor-in-chief Cevheri Guven wrote on his Twitter account that police had confiscated documents to build a case against the magazine for creating "terrorist propaganda."
"Once they accuse you of terrorist propaganda, anything can happen," Guven said.
Another Turkish publication, the daily newspaper "Cumhuriyet," had access to its website closed later in the day after sharing the controversial "Nokta" front page image. "Cumhuriyet" is one of several media outlets which have repeatedly come under Erdogan's scrutiny.
Distribution barred amid further raids
An Istanbul prosecutor's office later banned the distribution of the latest edition of "Nokta" over charges of "insulting the Turkish president" and "creating terrorist propaganda" after the cover was published online, the magazine said in a statement.
"Nokta" also said on Twitter that the magazine's managing editor Murat Capan had been detained in a third police raid and was due to appear in court later Monday.
The government-controlled Anadolu news agency later said that Capan was released on bail but would not be allowed to leave the country until he stood trial. Capan was to face the same charges as brought against the magazine.
Patriotic selfie
The cover of the current edition of "Nokta" appeared to play on claims - angrily denied by the government - that Erdogan was trying to exploit the deaths of soldiers to create a patriotic fervor ahead of elections set for November 1.
Daily newspaper "Cumhuriyet" also had its webpage blocked after sharing the controversial image
The magazine cover depicted a grinning Erdogan in shirt-sleeves taking a selfie, while in the background a coffin draped in the red Turkish flag was carried in state by soldiers. The image was a clear reference to escalating violence between the state and Kurdish militants, which has killed more than 100 security personnel in past weeks. But it was also an implicit piece of criticism toward comments Erdogan had made on military deaths.
"How happy is his family and all his close relatives, because Ahmet has reached a very sacred place," Erdogan was widely quoted as saying across Turkish national media at Ahmet Camur's funeral, one of the soldiers killed in recent clashes.
More than 30 years of clashes
Over 40,000 people have been killed in a Kurdish insurgency that originally began in 1984.
But the conflict between Turkey and the armed Kurdistan Workers' Party (PKK) flared up again after a ceasefire ended in July. Since then, more than 200 people have been killed, including at least 100 members of the Turkish security forces.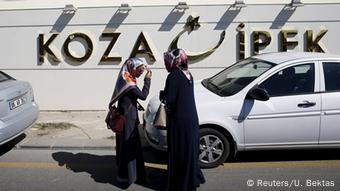 Koza Ipek Holding, a media conglomerate run by Erdogan's nemesis, Fethullah Gulen, was also raided recently
Critics on the left and from pro-Kurdish movements have accused Erdogan of stirring up the conflict after the ruling Justice and Development Party (AKP) failed to secure a majority in parliament in the June election. The pro-Kurdish Peoples' Democratic Party (HDP) entered parliament for the first time in the last election, marking an end to the AKP's majority held since 2002.
The PKK has been deemed a terrorist organization by the United States and the European Union as well as Turkey but supports elements, such as the peshmerga, who fight the self-styled "Islamic State" (IS) in Iraq" and also in Syria.
Turkish media have been clubbing Erdogan's attacks on IS fighters together with his fight against the PKK, while foreign media have called to caution in differentiating between the two.
Opposition calls Erdogan a 'dictator'
Engin Altay, deputy head of the main opposition Republican Peoples' Party's (CHP), slammed Monday's raid as "unacceptable," accusing Erdogan of being a "dictator" for stepping up pressure on media critical of the government.
"Dictators become more and more cruel, anxious and intolerant when they start to feel like they are losing power," he told reporters.
"Criticizing Erdogan has become the biggest crime in Turkey."
Press freedom virtually non-existent
Fiercely anti-government "Nokta" magazine was established in 1983 but was taken off the press in 2007 over controversial articles about two military coup plots in Turkey in 2004. It was banned for eight years, and only restarted publishing in May.
There has been growing concern about deteriorating press freedoms in Turkey under Erdogan and in particular over the numbers of journalists facing legal proceedings on accusations of insulting top officials. Scores of citizens have also been investigated on accusations of insulting Erdogan, who has become increasingly intolerant of criticism in recent years.
Last week, a 17-year-old high school student was jailed for 11 months after making a speech found to have denigrated the head of state, "Hurriyet Daily News" reported.
Earlier this month, Turkish police swooped in on the Ankara-based offices of a media group critical of Erdogan, after previously jailing two British reporters on terror charges, who have since been released. A Dutch journalist based in Kurdish-majority southeast Turkey was also deported last week after being detained during clashes between Kurdish rebels and the Turkish security forces.
Erdogan's domination of the media, much of it owned by conglomerates with business ties to Erdogan's AK Party, has pushed longtime EU membership candidate Turkey toward the bottom of global press freedom rankings. Erdogan has also repeatedly marginalized his adversaries over the years, forcing some into exile, others into hiding.
The World Press Freedom Index reported in 2014 that Turkey ranked 154th out of 180 countries, with a downward-pointing trend.
ss/cmk (AFP, Reuters, dpa, Anadolu)