In an interview with the German business magazine "Wirtschaftswoche," Turkish EU Minister Omer Celik called on the German government to "ban companies and organizations which are close to the (Gulen) movement."
The international religious and social organization led by exiled cleric Fethullah Gulen is accused of running a parallel state within Turkey and of being responsible for the failed coup attempt on July 15.
Celik also told Thursday's edition of the magazine that several Islamic imams associated with Gulen who fled Turkey following the putsch should be rounded up and deported. He didn't elaborate on the number of people who would be implicated.
His demands threatened already strained relations between Berlin and Ankara, and were immediately rejected by the premier of the German state of Baden-Württemberg, Winfried Kretschmann.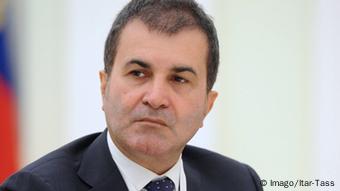 Turkey's European Affairs Minister Omer Celik
Ties with Turkey hit a new low earlier this week when a leaked German government report accused the country of being an Islamist "hub."
Business leaders arrested, assets seized
Celik's comments were published on the same day as Turkey's post-coup purge was widened to include the business community.
More than 1,000 police officers took part in dawn raids on businesses and homes Thursday in 18 provinces, including around 100 sites in the commercial capital, Istanbul, the state run Anadolu Agency reported.
Arrest warrants were issued for 187 business leaders and owners, and multiple corporate assets were seized.
Sixty people were detained, including Omer Faruk Kavurmaci, the CEO of the Aydinli Group clothing retailer. Several other CEOs were among those being held.
An arrest warrant was also issued for Rizanur Meral, president of the Turkish Confederation of Businessmen and Industrialists (Tuskon). Founded in 2005, Tuskon has 55,000 members and is accused by the government of financing pro-Gulen activities.
Other firms targeted included the fashion company Eroglu and the bakery Gulluoglu Baklava.
Thursday's sweep followed a similar operation on Tuesday, which saw dozens more companies raided and around 100 people arrested.
Gulen supporters silenced
Gulen, a former ally of Turkish President Recep Tayyip Erdogan, currently lives in exile in the United States. He has denounced the attempted coup and denied any responsibility.
But Erdogan has accused Gulen of operating a powerful network of influence in institutions including the judiciary, military, police and media. Turkish authorities have demanded that US authorities extradite Gulen following the failed putsch, which saw a faction of the military attempt to seize power while Erdogan was out of the capital on vacation.
Tens of thousands of Gulen's alleged supporters have been detained or fired in a sweeping post-coup purge.
The European Union and the United States have expressed concern about the scale of the crackdown, and human rights groups have warned that a lack of due process will ensnare innocent people who had no role in the abortive coup.
mm/sms (AFP, dpa, Reuters)