Recep Tayyip Erdogan likes to use clear terms: Jerusalem, he said, was a "red line for Muslims." The Turkish president made that statement before Donald Trump announced that the United States would recognize Jerusalem as the capital of Israel. Erdogan also seems to be willing to back those words with political action. This week, representatives from 57 countries will accept Erdogan's invitation to come to Istanbul for a meeting of the Organization of Islamic Cooperation (OIC). The official aim of the meeting: To craft a collective response to Trump's decision.
Read more: Putin and Erdogan to discuss Trump's move on Jerusalem
Kristian Brakel, who heads the Heinrich Böll Foundation in Turkey – a think tank affiliated with Germany's Green party – explained to DW that Erdogan would like to be recognized as the leader of a united Muslim coalition standing in opposition to Trump and Israel: "Erdogan has been pitching himself as the 'savior' of the persecuted and maligned in the Muslim world for some time. That is a pretty easy sell when it comes to Jerusalem, and works especially well in that instance because the subject has a special place in the hearts of many Muslims."
Read more: First Israeli ambassador to Turkey in six years starts work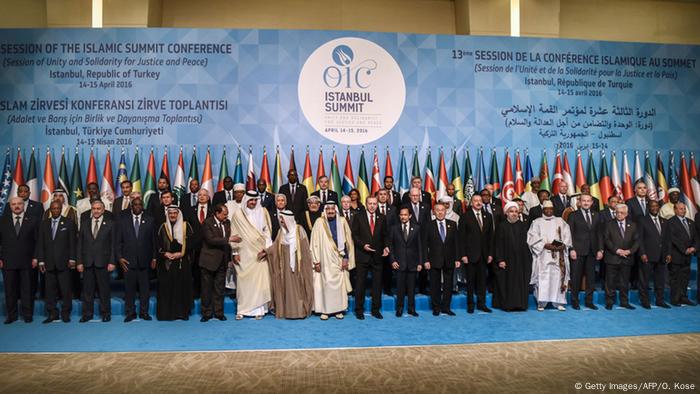 The Organization for Islamic Cooperation tries to bridge differences within the Muslim world
Brakel says that beyond the religious component, domestic policy issues have led Erdogan to use increasingly pointed rhetoric: "Turkey is essentially in a state of permanent election campaigning. The next elections will be held in 2019, and Israel is a great instrument with which to mobilize voters."
A tumultuous history
Turkish-Israeli relations are complex. Turkey was the first Muslim country to recognize Israeli statehood back in 1948. The years that followed brought a slew of economic agreements. Hatice Karahan, Erdogan's top economic advisor, told DW that economic relations between the countries represented a "win-win situation" for both: "Turkey exports automobiles, iron, steel, electrical devices and plastic to Israel. And in return, it imports Israeli fuel and oil."
Read more: Israel and Turkey hope to rekindle relations through natural gas sales
To strengthen that relationship, both countries began planning the multi-billion-euro Mediterranean Pipeline Project, known as Med Stream, back in 2008. The longterm goal of the undersea infrastructure project: To create a sophisticated pipeline system to facilitate the exchange of electricity, natural gas, crude oil and water.
Still, while economic relations have continued to gain momentum, skirmishes at the political level have repeatedly caused irritation.
The US announcement to recognize Jerusalem as the capital of Israel was met with fierce protests in Istanbul
The first diplomatic scandal came at the 2009 World Economic Forum in Davos, Switzerland. In a panel discussion on the Gaza situation, Erdogan, seated next to his Israeli counterpart Shimon Peres, accused Israel of being a "terrorist state" guilty of "murdering children." In 2010, the Israeli military halted the Mavi Marmara, an aid ship sailing in international waters under Turkish flag, on its way to the Gaza Strip. Nine activists were killed during the military intervention. The result: diplomatic relations were wound down to an absolute minimum, and ambassadors were recalled to their respective capitals.
Rapprochement among pragmatists
In 2016, there was once again rapprochement on the diplomatic level. Notwithstanding all of the rhetorical tirades of the past, that fact comes as no surprise to Kristian Brakel: "Despite his sharp rhetoric, Recep Tayyip Erdogan is definitely a political realist. Resuming relations has a lot to do with sober decision making. Ankara's crisis with Russia was a source of great concern. More than 60 percent of the gas that Turkey needs to operate comes from Russia. When it became unclear whether Russia would continue to deliver it, Turkey started looking around the region for new partners. One of them was Israel. One of the key points of discussion between the two was taking advantage of gas fields in the Mediterranean."
Economic ties growing steadily
Hatice Karahan makes no bones about her own pragmatic approach to relations. The economist is simply looking at the numbers, and she likes what she sees: "Turkish exports to Israel have continued to grow over the last several years. They were at about $2.5 billion (€2.1 billion) in 2016. In the first 10 months of this year Turkish exports to Israel have already gone up another 14 percent." Thus, Israel is one of the 10 most important export markets for Turkish products globally.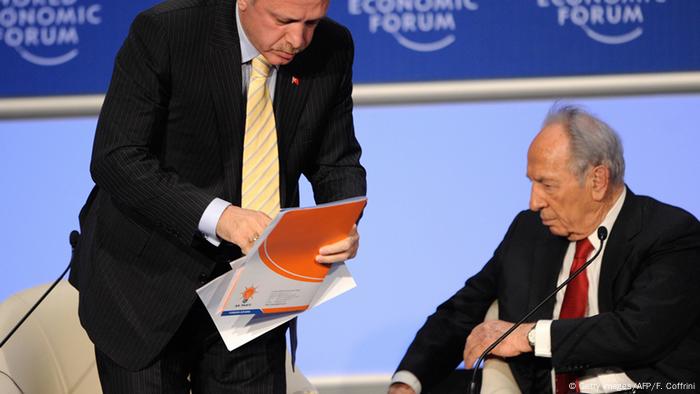 At the World Economic forum in Davos in 2009, Turkey accused Israel of being a 'terrorist state'
Political rhetoric as show
In spite of those positive economic developments, the diplomatic skirmishes persist. This weekend it was Israeli Prime Minister Benjamin Netanyahu who addressed Erdogan with strong words while speaking at a press conference. Netanyahu told reporters: "I am not used to receiving lectures about morality from a leader who bombs Kurdish villagers in his native Turkey, who jails journalists, who helps Iran get around international sanctions."
For Kristian Brakel such rhetoric is simply part of an ongoing political show: "When they each try to lecture one another on democracy, I sometimes get the feeling it is like watching a chicken trying to teach a penguin how to fly. Neither Netanyahu, nor Erdogan have made much of a name for themselves defending democracy or human rights. One sees that neither of them like each other very much. Nevertheless, economic and security policy necessity continue to bring them together."