Rescue teams dug through rubble with bare hands on Saturday to locate survivors from a powerful earthquake that struck parts of the country and neighboring Greece late Friday afternoon.
At least 25 people were killed in both countries and more than 700 people were injured as the quake caused a mini-tsunami and several buildings to collapse.
The earthquake struck in the Aegean Sea, rattling areas of western Turkey and several eastern Greek islands, as well as the capital, Athens. Tremors were also felt in Bulgaria.
Turkey's disaster authority said the magnitude was 6.6, while the US Geological Survey said it was higher at 7.0.
Turkish officials put the country's death toll alone at 12, with 522 injured.
Buildings toppled in Turkey's Izmir
Most of the damage occurred around Turkey's third most populous city of Izmir, which is home to 4.3 million people.
Health Minister Fahrettin Koca said on Twitter that ambulances, medical helicopters and medical rescue teams were deployed to the resort city.
Local media reported how a sea surge turned the streets of Izmir into rushing rivers.
Numerous buildings collapsed, and aerial footage on Turkey's NTV television showed entire city blocks had been turned to rubble.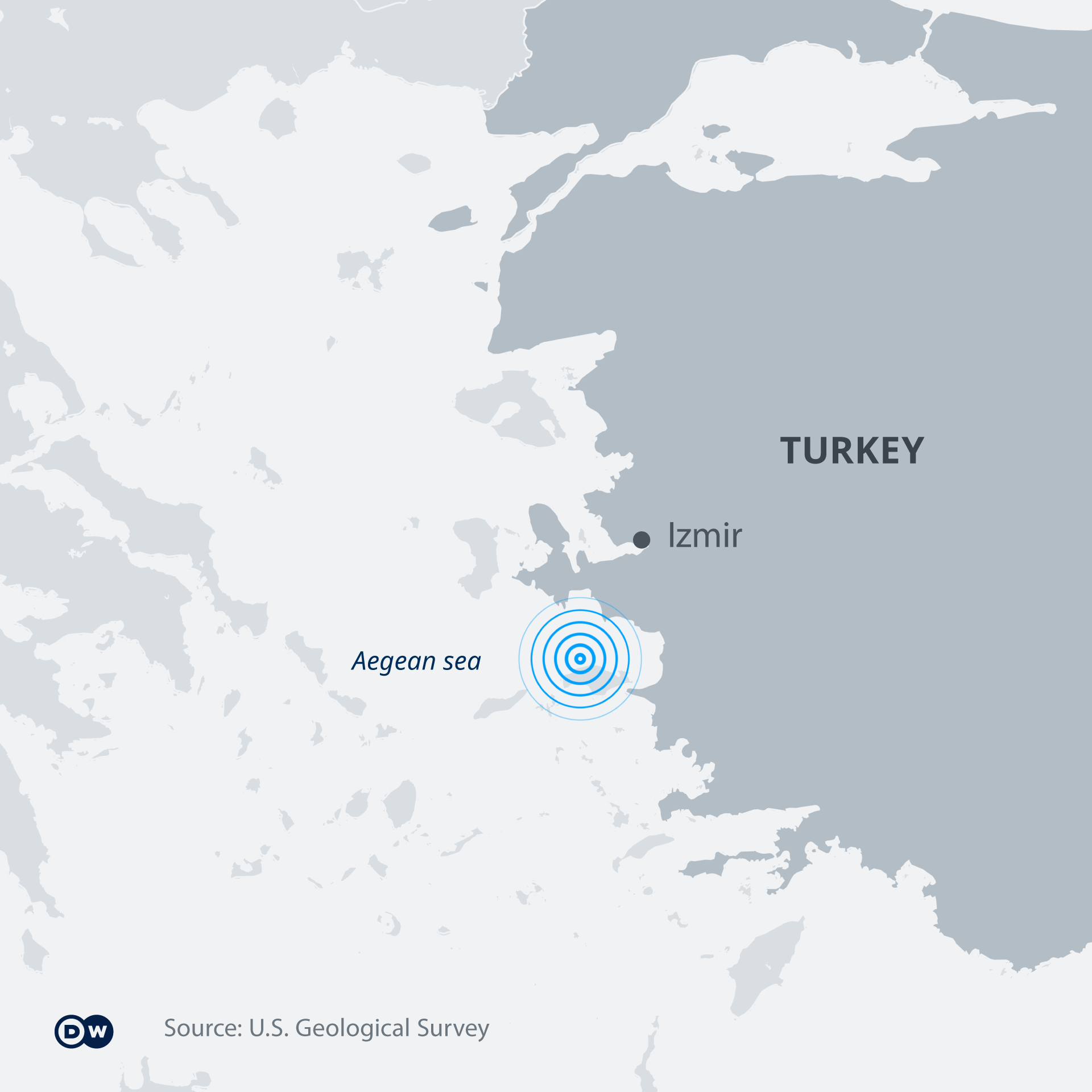 Izmir Governor Yavuz Selim Kosger said at least 70 people were rescued from wrecked buildings.
Local Turkish media and residents posted videos on social media showing the wreckage of a multiple story building, with people climbing on top of the rubble.
The scenes of devastation suggested the toll could rise.
Speaking from Istanbul, DW's Turkey correspondent Dorian Jones said rescue teams, working through the night to look for survivors and bodies, were risking their own lives.
"You have the dangers of aftershocks — we've already had reports that a powerful aftershock of 5.1 struck nearby Izmir — which only adds to the dangers and difficulties of the [rescue] work," he said.
A man walks among debris of collapsed buildings in Izmir, Turkey following an earthquake
Small tsunami in Greece
In Greece, two people were found dead on the island of Samos, which was also hit by a mini-tsunami following the quake.
The two, a boy and a girl, were confirmed dead after being found unconscious near where a wall had collapsed in Vathy, a town on the island.
At least 19 people were injured in Samos, with two, including a 14-year-old, being airlifted to Athens and seven hospitalized on the island, health authorities said.
People have been advised to stay away from the coastline and away from buildings as aftershocks continue to rattle the area.
Water rose above the dock in the main harbor of the island, flooding the streets of Samos. The walls of several homes on the island have collapsed and other buildings were reportedly damaged.
"It was chaos," said deputy mayor Giorgos Dionysiou. "We have never experienced anything like this."
Greek seismologist Akis Tselentis told state broadcaster ERT that due to the shallow depth of its epicenter — roughly 10-kilometers (6-miles) — potentially powerful aftershocks could be expected for several weeks and warned that buildings could collapse.
Earthquake diplomacy?
Greek Prime Minister Kyriakos Mitsotakis wrote on Twitter that he had called his Turkish counterpart to offer his condolences for the loss of life from the tragedy.
"Whatever our differences, these are times when our people need to stand together," he wrote.
Erdogan aide Fahrettin Altun tweeted that the disaster "reminds us once again how close we are despite our differences over policy."
In January, at least 38 people died when a 6.8 magnitude earthquake struck eastern Turkey, causing buildings to collapse in the city of Elazig.
In 1999, over 17,000 people were killed when a 7.6 magnitude earthquake struck the city of Izmit outside Istanbul.
dv, mm,rs/aw (AP, AFP, Reuters)