One is under intensifying fire from MPs, the other is unfailingly popular with politicians and other professionals, especially after a long day's work. The Speaker of the House of Commons, John Bercow, is accused of abandoning the impartiality demanded by his position for saying that US President Donald Trump should not be allowed to address the Houses of Parliament. The Speaker pub, a few minutes' walk away, overflows with the noisy opinions of suited civil servants and lobbyists. On Bercow's behavior, they are divided. But between the pub's modest paneled walls there is unanimity on one issue.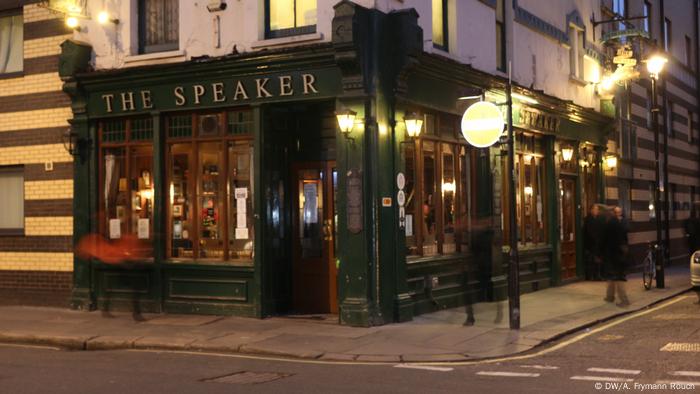 A quiet drink may not be possible in The Speaker in these tumultuous times
When Bercow argued against Trump on account of his sexist and racist opinions he was met with appreciative "hear, hears" from many MPs in agreement, and some 205 MPs (none of them Conservative) signed the Early Day Motion that urged Bercow, among others, not to allow a parliamentary address. Since then, however, certain Conservative MPs have lined up against him, spurred on by the revelation that he voted for Britain to remain in the EU - a sign, they argue, that he cannot be impartial in the Brexit process.
So far some 1.85 million people have signed a petition urging the government not to count Trump's forthcoming visit a state visit, and 310,000 put their names to a counter-petition. Although the government said earlier this week it did not agree with downgrading the visit, both petitions will be debated on Monday. Aware of levels of resistance to Trump, senior foreign office figures are reportedly planning for the visit to take place outside London and not while Parliament is meeting.
Signatories to the anti-Trump petition were not so much concerned with the nature of Trump's visit, as wanting to express their opposition to him, argues Dr Christopher Brooke, of Cambridge University'sDepartment of Politics and International Studies. He points out that it followed Prime Minister Theresa May's visit to Washington in which "people were disgusted to see Mrs. May's subservience to the new regime," and Trump's Executive Order banning refugees and visitors from seven majority-Muslim countries.
Proxy Brexit
Brooke's colleague, Dr Peter Sloman, notes that a Yougov poll found that the state visit had become "a kind of proxy for Brexit, with most UK Independence Party and Conservative voters supporting the visit and younger center-left voters opposing it." That poll also found that men were one and a half times more likely to back the visit than women.
While another Yougov survey earlier this month found that 19 percent of Brits now like Trump, there was no evidence of any of them in The Speaker pub when DW visited. But on the question of a state visit, or whether Bercow should have made his preemptive strike, views were more polarized.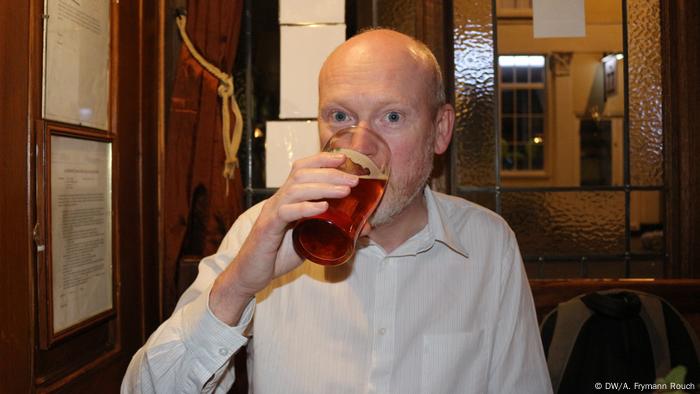 Mark Haworth is staying practical and says the UK needs all the friends it can get in post-Brexit times
"Donald Trump is demeaning the office of president," said Mark Haworth, a solicitor who had traveled from Leicester to sample the capital's best real ale pubs, of which The Speaker is one listed. "The way he behaves worries me - the way he deals with issues, the way he speaks to people, the thin-skinned bullying," he told DW. "But," he continued, "he's president of the United States, and the 'special relationship' is important' post-Brexit," he argued. "We probably need all the friends we can get."
Steve Layking, an environmental health consultant, agreed. May was "absolutely right" to extend the invitation of a state visit, he said. "Britain is in a pickle post-Brexit. Trump is not the most savory of characters but we're not talking to him, we're talking to America, to the institution and the bureaucracy of the American state. He's just a figurehead," he told DW.
Gender divide
However, the few women in the pub could not have disagreed more with the men's pragmatism, and were further unsettled by the characters joining Trump at the helm of the state. "I signed the petition [to] say 'I don't think this is acceptable,'" Rebecca Townsend, who works for the National Health Service, told DW. "I'm concerned about not just him as a person, but the people he's choosing to surround himself with."
Townsend said she could see how John Bercow's intervention might cost him his job, but felt he was right to speak out against Trump. "Theresa May's rushing around trying to make friends with someone I find really problematic" that Brexit has forced Britain into this position "is hugely unfortunate," she said. Her friend Cynthia, a civil servant, who declined to give her full name given her position, also agreed with Bercow's intervention.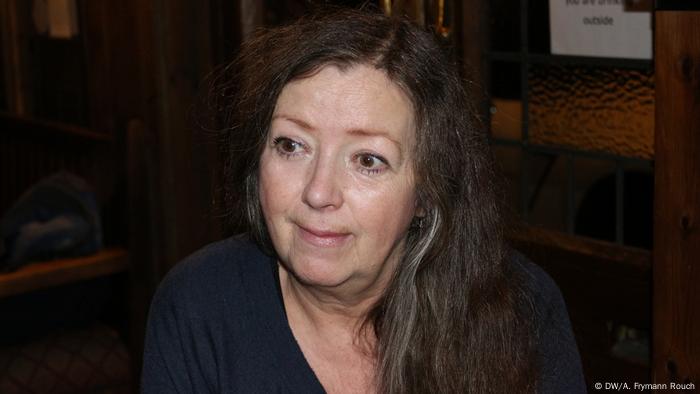 Like many of her female friends, Stephanie says it's important to speak out against Trump
Thus among the pub's drinkers appeared a gender divide: women saw Bercow as their defender from a rapacious and untrustworthy strongman, whereas most men criticized him for speaking above his station - and some couldn't help bringing up his wife's behavior. (Sally Bercow has caused controversy after appearing in a photo-shoot covered in only a bed-sheet, and for sending a tweet that was libelous and another that was in contempt of court.) Women seemed to oppose Trump on moral grounds while men were able to look beyond the personality to the office - and to the purse-strings.
The government's plans for the state visit suggest that May and others are aware of how problematic a figure Trump is, but also how vital they believe a successful visit is, in the interests of post-Brexit Britain. Among the protests, however, it is quite possible there will be more women than men.