For many in Washington, news that Donald Trump, barely one week in office, had scheduled telephone calls with the leaders of Russia, Germany and France on Saturday raised the alarming question of whether the new president intended to lift American sanctions on Russia. Trump had repeatedly called "getting along" better with Russia a key goal of his presidency.
A statement by a senior Trump adviser that lifting sanctions would be "under consideration" in the president's conversation with his Russian counterpart only sped up the rumor mill as did credible social media posts alleging that the new administration had an executive order on lifting Russian sanctions ready.
Talk of a possible unilateral move by Trump towards lifting sanctions on Russia was serious enough that Republican Senator John McCain felt prompted to issue a stern statement demanding the president to state publicly that this was not in his plans and threatening congressional action were he to fail to do so.
"President Donald Trump's call with Vladimir Putin is scheduled to take place amid widespread speculation that the White House is considering lifting sanctions against Russia," said McCain, who heads the Senate's Armed Services Committee and is considered a hawk on Russia. "For the sake of America's national security and that of our allies, I hope President Trump will put an end to this speculation and reject such a reckless course. If he does not, I will work with my colleagues to codify sanctions against Russia into law."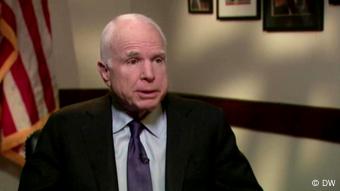 McCain has threatened to introduce Russian sanctions in Congress
Whether this had any impact on Trump's plans for his conversation with Putin is not clear; what is clear, however, is that, in his joint remarks with British Prime Minister Theresa May, Trump stated that it was "very early to be talking" about sanctions. So it appears that lifting sanctions would be off the table - at least for Saturday's phone call with Putin.
Unpredictable policy
If this is all part of Trump's vow to make American foreign policy less predictable it seems to be working.
"I have frankly no idea where he is going with this," said James Collins, a former US ambassador to Moscow.
"It is just hard to judge what he plans to do," said Olga Oliker, director of the Russia and Eurasia Program at the Center for Strategic and International Studies in Washington.
Collins and Oliker both rejected the idea of the US lifting sanctions on Russia at this point by executive action. But the Russia experts would not dare venture a guess as to whether such a move was or was not under serious consideration by the Trump administration.
"Unilateral lifting of sanctions by the United States without anything to show for it would strike me as not really a deal unless there is something being agreed that we are not aware of," said Oliker.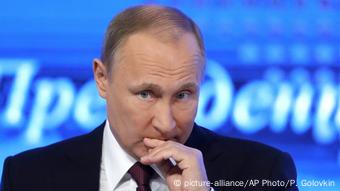 What can Putin expect from the Trump administration?
"Is it possible? Yes," said Collins. "Would it be wise? No," he added. "I have no understanding of his modus operandi."
William Miller, a former US ambassador to Ukraine, does not believe that President Trump would lift sanctions without consulting with America's European partners first, because "it would do great damage to the relationship with the Ukraine not to mention the allies and [German Chancellor] Angela Merkel."
But, added Miller, while he did not think Trump would take such a step unilaterally, he also could not entirely exclude it either.
"If they would be lifted there would be an adverse reaction from people like John McCain and [Senator] Lindsey Graham and the Ukrainian caucus in the Congress which is quite strong," he said.
Miller's colleague Collins mused that perhaps the phone call with Putin might simply be nothing more than a conversation starter showing that the new president plans to play a more active part in finding a solution to the Russian-Ukrainian conflict.
But then it also might be about something entirely different, said Collins: "I don't know what negotiation tactics this man uses."
However, one thing he noted was remarkable, regardless of Trump's intentions and negotiation tactics: "I find it interesting that this is going on even before he has a Secretary of State," said Collins. "That already says a lot."