The Trump transition announced attorney David Freidman's appointment in a statement Thursday, saying his "strong relationships in Israel will form the foundation of his diplomatic mission."
President-elect Donald Trump was quoted of saying: "(Friedman) has been a long-time friend and trusted adviser to me. His strong relationships in Israel will form the foundation of his diplomatic mission and be a tremendous asset to our country as we strengthen the ties with our allies and strive for peace in the Middle East."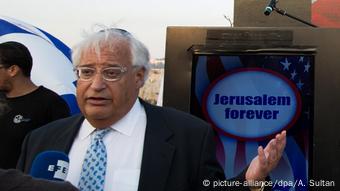 David Friedman
Friedman, who specializes in litigation and bankruptcy law, was a key adviser to the incoming Republican president on US-Israel affairs during the presidential campaign.
Where Israel's concerned, he supports settlement building within the Palestinian Territories, a practice repeatedly lamented as a hindrance to the peace process by the UN, the Obama administration and others.
Accepting the role, Friedman said he promised to "work tirelessly to strengthen the unbreakable bond between our two countries and advance the cause of peace within the region," adding that he looked forward to "working from the US Embassy in the eternal capital, Jerusalem."
Trump pledges new US embassy in Jerusalem
Trump has vowed to relocate the US' embassy in Israel from Tel Aviv, the country's business capital, to Jerusalem.
While Israel has classed Jerusalem as its capital city since 1950, it has not been formally recognized as such by the international community, who continue maintain their embassies in Tel Aviv.
Israel captured Arab East Jerusalem during the six-day war of 1967 and has claimed it ever since. That land grab has however not been recognized by the international community including - until now at least - the US.
In the event of a two-state solution, Palestinian authorities have made clear that they want East Jerusalem to serve as the capital of their own separate state. Trump's decision to move the embassy to Jerusalem is therefore almost certain to provoke objections from the Arab world and Muslims further afield.
This week, senior Trump adviser Kellyanne Conway emphasized that moving the embassy to Jerusalem had been a "big priority" for Trump. He has promised to support Israel in other areas, as well. For example, he has promised not pressure Israel hold talks with Palestine.
Israeli Prime Minister Benjamin Netanyahu welcomed Trump's election in November, calling him a "true friend of Israel."
Netanyahu and outgoing US President Barack Obama oftentimes endured a frosty relationship. In recent years, the two clashed over the nuclear deal with Irsael's regional rival, Iran, which was brokered by the US among others. Obama also voiced his displeasure over Israel's expansion of settlements in the West Bank.
Trump vowed to tear up the Iran deal during his campaign, though he has since toned down his aggressive rhetoric concerning the landmark nuclear agreement brokered in last year.
dm/rc (AP, Reuters)