Norway's prime minister and royal family led mourners at Oslo Cathedral on Sunday in a service for the 93 victims of Friday's shooting spree and bomb attack.
Leading the tributes, Norwegian Prime Minister Jens Stoltenberg told the congregation that the country was "struggling to understand the scale" of the disaster.
He said the names and photographs of those who died would soon be released and "the scale of the evil will then emerge." Members of the victims' family and several of the young survivors were among those in the Oslo congregation.
Visibly moved, the prime said they may be shaken, but will not give up. "Our answer is more democracy, more openness, more humanity," he said.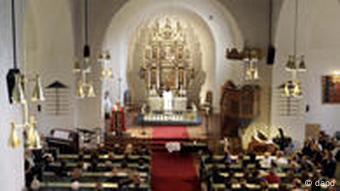 The memorial service was attended by politicians, survivors and victims' family
"I am proud to live in a country that is standing together. I am impressed by how much care and firmness people have shown for each other," he said.
He told the family of the victims that "the whole world is feeling with you" and passed on the condolences of world leaders including US President Barack Obama, German Chancellor Angela Merkel and the Secretary General of the UN, Ban Ki-moon.
'Acted alone'
Earlier on Sunday, Norwegian police confirmed the suspect they have in custody had confessed to the double attack, but was refusing to admit criminal responsibility.
In a press conference, police said the man said he acted alone, and they were now trying to "verify this through our inquiry."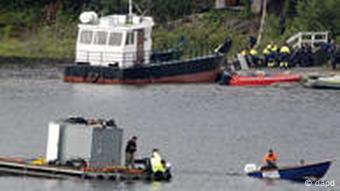 Police continue the search for the people who are still missing
Police are continuing to search for casualties, as several people are still missing. A mini-submarine is being deployed off the island of Utoeya.
In a statement issued through his lawyer, the suspect Anders Behring Breivik. described his actions as "gruesome but necessary." He is suspected to have links with right-wing extremists.
Police confirmed on Sunday that a 1,500 page violent anti-Islamic manifesto was published by Breivik just hours before he went on the rampage.
He has been charged with committing acts of terrorism, and is due to appear in court on Monday when judges will decide whether he should be detained as the investigation continues.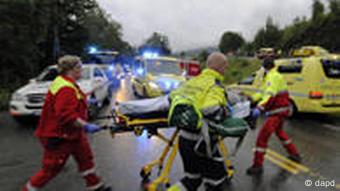 Medics and emergency workers escort an injured person from Utoeya
'Fear will not take over our heart'
In Sunday's ceremony, Bishop Helga Haughland Byfuglien asked the congregation "not to be taken over by fear."
"In the midst of this cruelty we can also see some of the most beautiful things that exist - the humanity, the ability to give each other strength," said the bishop.
Hundreds gathered outside the cathedral during the service to lay flowers and light candles.
"Hate cannot win over love - that is why we are holding on to each other today," she added.
Author: Catherine Bolsover (AFP, dpa, Reuters)
Editor: Andreas Illmer