The long-awaited trial finally opened on Wednesday, some ten months after police discovered the pensioner's body in the German capital. Proceedings had been delayed twice in the last four weeks over jury issues.
According to prosecutors, 56-year-old defendant Josef S. took time to plan the murder and befriend his victim Heinz N, an 80-year-old widower living in central Berlin. He also ordered a large freezer ahead of the deed, which authorities estimate took place in late 2006 or early 2007. After the freezer arrived, Josef S. allegedly shot the pensioner in the head, dismembered his body and put his remains in the freezer.
Read more: Man accused of murdering Berlin pensioner may have killed second victim
Prosecutors say the defendant was motivated by greed and needed money to fund his gambling addiction. The suspect, who owns a bric-a-brac shop, was allegedly able to access the victim's life savings. He also kept collecting his 2,000 euro ($2,330) monthly pension in the decade following the murder.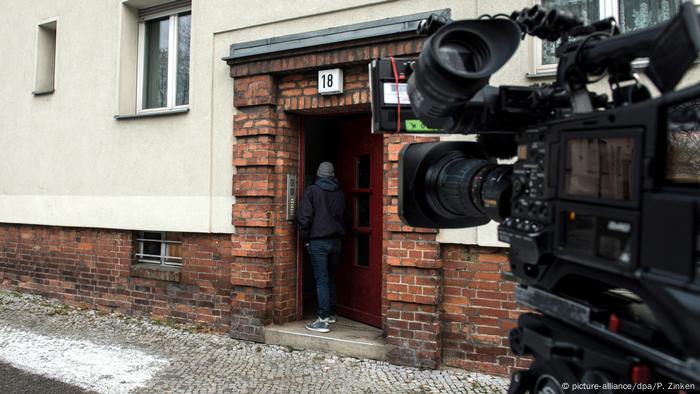 The house where the alleged murder took place is in the fashionable Prenzlauer Berg area of Berlin
Apartment like a 'dollhouse'
At the same time, Josef S. apparently went out of his way to create the impression the deceased pensioner was still living in his Berlin apartment. Investigators say the suspect would regularly raise and draw the blinds, and that he had installed a timer to turn the lights on and off. Also, he allegedly forged his victim's signature to file two tax statements. The apartment was kept very clean, says prosecutor Reinhard Albers.
"Everything looked like inside of a dollhouse, way too clean, way too neat," he said.
Read more: What do grisly killings say about Japanese society?
Eventually, one of the neighbors grew suspicious and alerted the police. The authorities searched the apartment in January this year and discovered the body "at the very last moment," said Albers. Josef S. had already ended the lease and was likely to move the body out.
"In February, it might have been empty," Albers said.
Police fears another victim murdered
Josef S. is also under investigation for allegedly using funds and pension payments of another senior citizen, his neighbor Irma Kurowski, who has not been seen since 2000. Her body was never found, but the police suspect she was murdered.
Read more: Three Germans face court for not helping a stricken pensioner
The 56-year-old defendant has remained silent in the proceedings leading up to the trial. He faces life penalty if convicted.
The case prompted a debate about vulnerability of elderly German citizens, especially those facing isolation in large cities.
dj/rt (dpa, AFP)