Kenya's Vice President William Ruto appeared before the International Criminal Court (ICC) in The Hague on Tuesday (10.09.2013). He is there to respond to charges arising from his alleged co-responsibility for the violent ethnic clashes that followed the December 2007 presidential election in Kenya. The charges against him are incitement to murder, persecution and the forcible transfer of people.
The battle between the rivals in the 2007 election, former president Mwai Kibaki and Raila Odinga, plunged the country into the deepest crisis of its history since independence in December 1963. Around 1,200 people died as the ethnic groups of the two candidates attacked each other, incited by their respective political leaders. Ruto, an influential party functionary who supported Odinga, is alleged to be one of them.
Successful strategy
The ICC announced in March 2012 that Ruto was to face charges.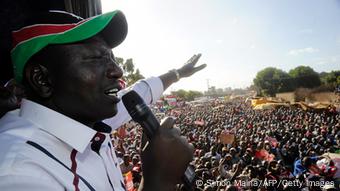 William Ruto's rags to riches story has won him many admirers
The news came as internal prepararations were well underway for the presidential election to be held the following April. Ruto was already seen as a candidate with good prospects - a trial in the full glare of international publicity was the last thing he needed, especially since the Kenyan constitution requires presidential candidates to possess personal integrity. Nevertheless, Kenya's High Court gave the green light and accepted Ruto's candidacy.
In a clever move he joined forces with his former archenemy Uhuru Kenyatta who had supported ex-President Kibaki in 2007 and is said to have incited members of his ethnic group to attack opponents. The strategy paid off and the Ruto-Kenyatta duo won the election as vice president and president respectively. Now both are required to answer to the ICC. Kenyatta's trail is due to begin on November 12, 2013.
From street vendor to vice-president
In his homeland William Ruto is widely regarded as a charismatic leader- the 46-year-old can easily enthuse huge crowds. One reason for his popularity can be found in his biography. In Kenya Ruto has the reputation of being a self-made man, someone who has achieved what many poor Kenyans can only dream of. He grew up in poverty in northwestern Kenya, a background from which he emerged thanks to hard work and good results in school. "It's no secret that Ruto used to sell chicken on the highway to help his father pay the school fees," Josephat Magut, a political analyst in Kenya, told DW.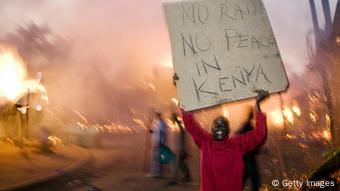 The 2007 post-election violence left more than 1,000 people dead
On his way up the political laddder, the young Ruto received prominent support. It is said that he met President Daniel arap Moi when he visited a secondary school where Ruto was working as a teacher. Moi was impressed by the young teacher's charisma and enrolled him in his political youth organization. It was Ruto's job to drum up support for arap Moi in the first free elections held in 1992. Today Daniel arap Moi's protege is the vice president of Kenya. According to Karsten Dümmel of the Konrad Adenauer Foundation in Kenya, Ruto is a man who knows what he wants. "He has succeeded in making a name for himself both within his own ethnic group and within Kenya's political landscape."
Ruto's swift success won him great popularity, says Dümmel. "If things happen along the way that are not entirely correct, many Kenyans seem to accept this. What is important for them is that he has made it to the top."
Ruto's religious beliefs have also stood him in good stead. Kenyan Christians note with approval that he is an active member in the Pentacostal Church. When during the 2013 election campaign Ruto called for people to remain calm and refrain from violence, this was taken at face value by many Kenyans, despite his alleged involvement in the bloody clashes five years ago.
Parliamentary support
There is considerable moral support for Ruto from the government camp. More than 100 of the 349 MPs accompanied him to The Hague - at their own expense, as coalition leader Aden Duale stressed on Kenyan television.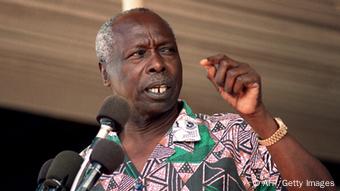 Daniel arap Moi spotted William Ruto's political potential
"It is their decision, they are free to act as they think fit," legal expert Haru Ndubi commented in an interview with DW. However, he added, "They could damage their work in parliament. They should concentrate on the topics that are in the interests of Kenya, rather than on bolstering William Ruto."
To protect the political duo of Ruto and Kenyatta from possible further investigations, the National Assembly is preparing for Kenya to leave the ICC. Whether that will help Ruto is questionable. However it is a clear expression of solidarity. Ruto himself is putting on a show of confidence. Before boarding the plane for the Netherlands on Monday, he gave waiting journalists the thumbs up sign. However, his smile appeared somewhat forced.