DW: Your fifth album is called "Dream Machine." What does Tokio Hotel dream about in 2017?
Bill Kaulitz: At the moment, we feel that we're making up our own dream machine by only doing what we're really keen on. We truly enjoyed this production and finished our dream album. And with our tour, we're also creating our own dream world.
This time, you've done almost everything yourselves. Tom is the executive producer. Is he also a sound dictator?
Gustav Schäfer: Well, that's a good way of putting it! Yes, we could call him a sound dictator.
Georg Listing: No, not a sound dictator, but rather a sound guru.
Bill: Nope, that's what he really is, to some degree. Tom is in the studio the entire day; he doesn't really do anything else from morning to evening. And this way, we all have our roles and our tasks. But most of the time, we actually agree with each another.
What was your biggest conflict when it came to finding the right sound?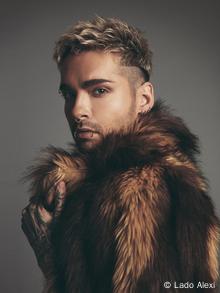 Tokio Hotel singer Bill Kaulitz says he's a better artist when sad
Bill: The whole thing is a kind of journey. We've given up the idea that a guitar must always and everywhere be readily available just because we're a band. When we play live, for instance, Tom and Georg have this entire UFO-like thing going - complete with instruments, keyboards and pads - that lets them do virtually everything. Nowadays, everyone does everything anyway. We're no longer an old-fashioned rock band equipped with a guitar and an amplifier. Our sound has grown over the years.
Your new album sounds very melancholic. But looking at your video blogs and Instagram pictures, you all seem to be doing pretty well these last few months. Where does the sadness come from?
Bill: (laughing) Well, despite that, I've always had a sense of sadness or melancholy about me. I've always been that way. I also think that I'm a better artist and singer when I'm not doing well.
Tom: It's due to the way we write songs. It's not at all that we don't love life. It's just that, in happy moments, we don't write any songs. When you're really happy, you don't need to process it - you're just really happy...
A whole generation of your fans jumped into German language courses; they all wanted to learn German. But even on your last album, you pretty much said goodbye to writing lyrics in German. And "Dream Machine" only contains one single German word, and that is "tanzen" (to dance). Why is that?
Bill: Somehow, German just vanished at some point. We already started at an early stage to translate our albums, and at some point, we started to write only in English. It was too strenuous to translate everything into German, and besides, translations don't always work.
Tom: Basically, our general rule now is not to translate anything anymore. We simply say: When we write a song in German, then we'll produce it in German. And when we write a song in English, then we'll produce it in English.
Bill: We were so deeply inspired by Berlin that a single German word comes up in the song "Boy Don't Cry." I just left it like that, because it sounded awesome.
Tom and Bill have lived in Los Angeles for more than six years, whereas Gustav and Georg have moved back to Magdeburg. Didn't that distance pose a problem for the production of the album?
Georg: No. At the beginning of 2016, we spent two months here in a Berlin studio laying the groundwork for the album. Then the guys went back to LA, where they continued to work on it. In the summer, Gustav and I traveled to LA. And then, finally, we finished production in Berlin. We're always in contact with each other exchanging ideas.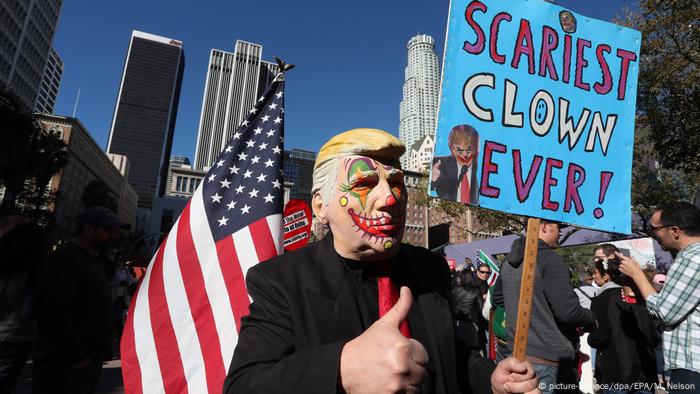 Los Angeles has seen countless protests since the election of US President Donald Trump
Tom and Bill, how does it feel being foreigners in the US right now?
Bill: For us, that's of course difficult, and it's an important issue. But I think that here in Germany, with the AfD [Eds.: far-right Alternative for Germany political party] and so on, things are quite similar. It's more of a global problem. The difference is that in the US, it's already reality. But you should also consider that LA is special, because nobody there voted for Trump. That's why they were all shocked over there.
Tom: We'll return to the US and fight for the independence of California.
Bill: Exactly. But of course, we first have to see whether we'll get a visa. If we don't get one, then we'll be back in Germany (laughing). Well, I don't know how easy all of that will be for us in the future.
Other musicians are clearly expressing their protest. German-Russian electro musician Zedd, who also lives in Los Angeles, has announced a fundraising concert for April 3, similar to what high-profile US artists like Macklemore and Imagine Dragons did in support of the non-profit organization American Civil Liberties Union. Would that interest you as well?
Bill: I believe that it's important to not just shy away from confrontation. For me, there isn't anything there that would force me to leave the country right away. I simply believe that now is the time for expressing one's views. I think such festivals are great. Right after the election, we took to the streets of LA and demonstrated.
Kaulitz: 'It's important not to shy away from confrontation'
Protest songs are once again becoming fashionable in the era of Donald Trump. Would those kinds of songs be fathomable for Tokio Hotel?
Georg: A big political song? I'm not quite sure. But, we still have our opinions on political matters.
Tom: Well, expressing something with our music in such a concrete way - that really isn't our style. But of course we have the feeling that we take a stand for something with our lyrics and our videos as well. Bill felt personally attacked when Trump was elected. He ran around offending people for two weeks.
Bill: Yeah, as an artist, it's a real blow, and it hurts. But I believe that everyone feels that way. When you write songs about things you believe in and that you want to get across, and then, along come some politicians who do precisely the opposite and end up being elected, you're likely to take that personally. I think politics are a personal thing, and everybody has a right to their own opinion.