December 3, 2014 - A German documentary called "Secret doping - How Russia makes its winners" starts the process rolling. Public broadcaster ARD's revelations of systematic doping, testing cover-ups and corruption severely damage the image of Russian sports. The program showed secret footage indicating state-sponsored doping, plus additional apparatus to cover up positive tests. Even the then-president of the International Association of Athletics Federation, Lamine Diack, was implicated in the film.
December 16, 2014 - The World Anti-Doping Agency (WADA) commissions an investigation to probe the allegations against Russia. Former WADA boss Dick Pound leads the three-person panel, flanked by Canadian sports law professor Richard McLaren and German criminal investigator Günter Younger.
July 16, 2015 - As a result of the doping investigations, Russia temporarily withdraws its entire race walking team from international competition. The world championships then take place in August in Beijing, without the world's most successful race walking nation by far.
November 4, 2015 - Diack is accused of corruption and money-laundering. Authorities in France press charges against the 82-year-old (he's now 83). A French prosecutor says that Diack received more than a million euros during his tenure for covering up positive doping tests.
November 9, 2015 - WADA's independent commission led by Pound files its first report, painting a shocking picture of doping practices in Russian track and field athletics. The commission's recommendation: suspend Russia from the IAAF.
November 10, 2015 - WADA temporarily suspends the accreditation of Moscow's doping laboratory. The International Olympic Committee (IOC) suspends honorary member Lamine Diack.
November 13, 2015 - The IAAF suspends the entire Russian track and field organization, ARAF, as a result of the doping allegations.
November 18, 2015 - WADA suspends Russian anti-doping agency RUSADA, for failing to keep to the rules.
January 7, 2016 - The IAAF's ethics commission issues lifetime bans to former President Diack's son, Papa Massata Diack, former IAAF treasurer Valentin Balakhnichev and former Russian coach Alexei Melnikov. Former anti-doping head Gabriel Dollé receives a 5-year suspension.
January 14, 2016 - Presenting its second report, the WADA investigative panel accuses the IAAF of "a complete failure in the fight against doping and corruption." It identifies former IAAF President Diack as the prime enabler of the "organization and facilitation of the conspiracy."
March 6, 2016 - Russia's great clean-up suffers another major setback as a new TV documentary, on German public channel WDR, issues fresh allegations of Russian athletes breaching IAAF and WADA rules.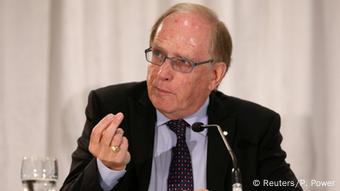 Richard McLaren's bombshell report was just the latest chapter in a lengthy Russian doping saga
March 7, 2016 - It emerges that Russian tennis player and former world number 1 Maria Sharapova tested positive for meldonium at the Australian Open in January. Sharapova herself makes the news public. The substance was added to the banned list only this year, by April, WADA had recorded more than 170 positive tests for the drug, designed to improve the flow of oxygen around the bloodstream. As it's not clear precisely how long meldonium can stay in somedody's system, WADA decides to loosen its rules on the substance.
May 12, 2016 - The former head of Moscow's anti-doping laboratory, Gregory Rodchenkov, claims in the "New York Times" that he covered up positive doping tests at the Winter Olympics in Sochi with the help from the RUSADA anti-doping agency and Russian secret services. He says 15 Russian medalists had doped. The report prompts investigations by US investigators, the International Olympic Committee, and WADA.
May 17, 2016 - Doping re-tests dating back to the 2008 Olympics in Beijing register 31 failed tests. Of those, 14 are reportedly Russian, 10 of them medal-winners. Olympic high jump champion Anna Chicherova makes the list. Simultaneously, WADA launches its investigation based on Rodchenkov's allegations.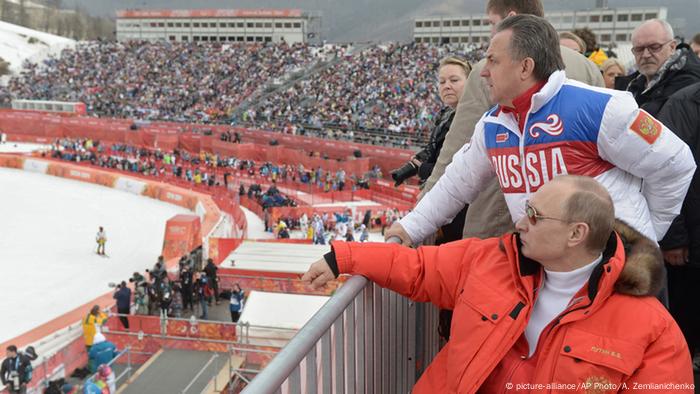 Back in Russia, Putin has pledged a separate investigation - but says that the current allegations all stem 'from one man'
May 27, 2016 - At re-tests dating back to the 2012 Olympics in London, 23 athletes test positive. A further failed test from Beijing 2008 also comes to light. Eight Russians are among those affected.
June 8, 2016 - Sharapova is banned from tennis for two years owing to her positive meldonium test.
June 15, 2016 - More serious allegations from WADA, which says that a total of 736 scheduled Russian doping tests were not carried out between February 15 and May 29. WADA says its investigators were impeded by athletes and intimidated by Russia's FSB secret service.
June 17, 2016 - The IAAF council unanimously upholds the suspension for Russian track and field athletes. With this, they are most likely banned from the Olympics in Rio. But a possible compromise emerges: individual athletes can still take part, perhaps under a neutral flag, if they can demonstrate their innocence and that they played no role in Russian doping. US-based long jumper Daria Klishina wins such an amnesty.
July 3, 2016 - Russia formally appeals its IAAF ban at the Court of Arbitration for Sport (CAS).
July 11, 2016 - The CAS postpones its decision on Maria Sharapova's appeal until September, thus excluding her from the Olympics in Rio.
July 18, 2016 - The "McLaren Report" commissioned by WADA publishes serious allegations of state-controlled doping during the Winter Olympics in Sochi. It says that positive tests routinely went missing at Russia's doping laboratory in Moscow, with support from the government. At Sochi, with the help of the FSB secret service, Canadian lawyer Richard McLaren says that positive samples were swapped for clean ones with the use of special tools. The report, presented in Toronto, provides no recommendations on how the IOC or other world sports bodies should respond to its findings, saying it was commissioned only to establish what happened.
July 19, 2016 - IOC leaders convene for a conference call to discuss their next steps - with just 17 days until the opening ceremony in Rio.
July 21, 2016 - CAS upholds a ban imposed by the IAAF on Russian track-and-field athletes. The CAS thus dismisses appeals against it filed by Russian athletes and their country's Olympic committee. The verdict is seen as a precursor to an IOC ban on any Russian athletes from competing at the 2016 Summer Games in Rio.
July 24, 2016 - The IOC decides against a general ban on Russian athletes, leaving the decision on whether and which Russians should be allowed to compete up to the bodies that govern the individual sports. The IOC makes this decision in light of the McLaren Report. Middle-distance runner and whistleblower Yulia Stepanova is barred from competing in Rio. According to the IOC, Stepanova's actions "do not satisfy the ethical requirements for an athlete to enter the Olympic Games."
August 7, 2016 - In sharp contrast to the IOC, the International Paralympic Committee (IPC) issues a blanket ban on Russian athletes from competing at the Rio Paralympic Games.
August 23, 2016 - The CAS upholds the ban on Russian athletes from competing at the Paralympics.
November 16, 2016 - Russian Olympic Committee President Alexander Zhukov says his country has cleaned up its doping problem and should be allowed to return to all international competitions.
December 2, 2016 - The IAAF confirms the ban from competition of Russian athletes.
December 7, 2016 - The IOC extends until further notice the provisional sanctions imposed on Russia over the doping allegations until further notice. These do not include a ban on Russian athletes participating at the 2018 Winter Olympics in Pyeongchang.
December 9, 2016 - Canadian lawyer Richard McLaren unveils the second part of his report, in which he says he found evidence that more than 1,000 Russian athletes competing in summer and winter sports were involved in or benefited from an institutional conspiracy to conceal positive doping tests.
msh,pfd sw/sb, dv (AFP, dpa)