McLaren's report reveals clear evidence of systematic Russian doping at the 2014 Sochi Winter Olympics, prompting the World Anti-Doping Agency to ask the International Olympic Committee to consider a complete ban on Russians competing at the Rio Games next month.
The IOC has vowed the "toughest sanctions" available and Russian President Vladimir Putin said officials named in the report would be temporarily suspended pending more information.
McLaren described two separate state-run systems designed not to register a positive doping test, one for "normal" operations out of the Russian national anti-doping laboratories in Moscow, and another able to hoodwink international officials also present for doping tests during the 2014 Games in the Russian resort.
"The Moscow laboratory operated, for the protection of doped Russian athletes, within a state-dictated failsafe system," McLaren told a news conference in Canada on Monday.
"The Sochi laboratory operated a unique sample-swapping methodology to enable doped [Russian] athletes to compete at the Winter Games."
Russian track and field athletes are already banned from Rio after a separate WADA probe into systematic doping, although clean athletes may still be able to compete.
Russia is appealing the track and field ban, with a verdict from the Court of Arbitration for Sport expected this week.
Partly because of the track and field scandal, the US and Canadian anti-doping agencies had already issued an appeal to seek a full Russian ban from the Olympics in Rio de Janeiro next month, prior to the publication of McLaren's report.
IOC President Thomas Bach called the Russian practices a "shocking and unprecedented attack" on sport, saying the IOC would not hesitate to act against any individual or organization implicated.
Bach had been walking a tightrope in recent weeks, seeking not to pre-judge any investigations or court appeals. Now, he and his colleagues have just 18 days to reach a verdict with the Games beginning on August 5.
The IOC will hold a conference call on Tuesday to discuss the McLaren Report's findings and will be under increased pressure to ban all Russian competitors given the intervention of WADA's executive committee.
As well as stating that the IOC should consider a blanket ban, WADA said in a statement that Russian government officials implicated in the scandal should be sacked and that Russian officials should be barred from attending the Games and other international sporting events.
WADA has no power to enforce a ban and the IOC has got itself in a tangle over how any suspension would come into effect, given how the track and field issue has panned out. It left athletics body the IAAF to make a ruling.
Putin tried to say the right things, stating that Russia was open for co-operation but other Russian officials were defiant.
"This is only words and speculation. Allegedly someone said something. There's nothing concrete. We want to hear facts and names confirmed with proof," Dmitry Svishchev, head of the Russian parliament's sports committee, told the Interfax news agency.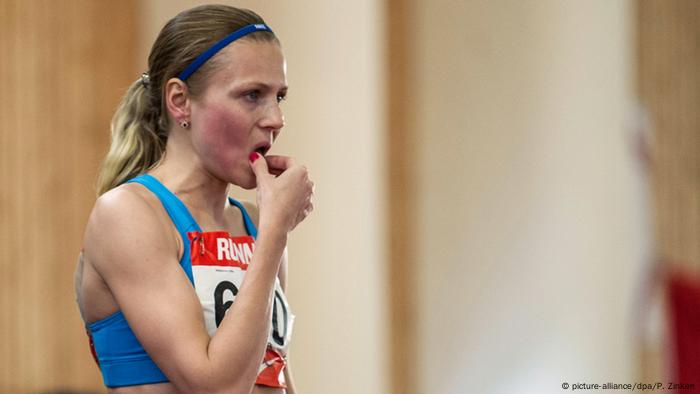 Whistleblower Julia Stepanova is one of two Russian athletes with special dispensation to compete, despite an IAAF ban against all Russian track and field stars
Report implicates FSB, government - but 'no recommendations'
Going into details over the Sochi findings, McLaren said that the Moscow methodology was the simpler of the two doping programs.
Calling this the "disappearing positive methodology," it involved marking positive tests collected in Moscow either with the words "Quarantine" or "Save." Those positive tests marked "Save," McLaren said, were then replaced with negative samples and reported as negative by Russia's deputy minister of sport, Yuri Nagornykh.
Those marked "Quarantine" were processed with the proper international authorites as failed drugs tests.
He described this system as a "simple, effective, efficient method for deputy minister of sport Yuri Nagornykh to report any positive as a negative result."
From the samples available to them, McLaren said, Russia's ministry of sport had issued 312 orders of "Save," while saying "Quarantine" in 265 cases - which included mostly tests of foreign athletes.
In Sochi, under international scrutiny for the 2014 Winter Olympics, such a system could not have worked. McLaren said that the FSB - Russia's secret service - had found a way to remove the caps from positive test bottles without leaving obvious traces, then swapping the samples within.
Although they could not know the precise method, McLaren said that his team found a way to break into the bottles themselves, and noted that they left small scratches in a similar way to those bottles tampered with in Sochi. McLaren said his team had established evidence of this tampering "beyond a reasonable doubt."
McLaren stressed on Monday that "no recommendations" were tied to his report, saying his team had only been charged with investigating the allegations - which first came to light via former Russian anti-doping head Grigory Rodchenkov, who now resides in the US. His team was asked by WADA to "determine the true facts" of the case, but nothing more, the lawyer said.
Russia topped the Sochi medal table in 2014, with 13 golds and 33 medals in total. At the last Summer Games in London in 2012, Russia came in fourth, with 22 golds and 79 medals.