South African President Jacob Zuma has authorized the deployment of members of the South African National Defence Force in cooperation with the South African Police Service to maintain law and order, according to a presidency statement this week.
At Zuma's address in 2015, parliamentary security guards were disguised as waiters, but this is the first time soldiers will be deployed as security rather than a purely ceremonial role.
Opposition condemns heightened security
Zuma said the military deployment was to maintain "law and order" outside parliament in Cape Town, but has been condemned by the main opposition Democratic Alliance (DA) party, which dominates the city's politics.
"The DA will not stand by and allow for the 'people's parliament' to be turned into a security-state show of force, meant to intimidate opposition both inside and outside of the ANC," the party said in a statement.
EFF leader Julius Malema described the use of soldiers this year as a "declaration of war on citizens."
Calls to resign
With the clock ticking on his second five-year term in office, the last he is permitted under the country's laws, Zuma has seen his once popular image left tattered by a series of scandals and a slew of poor economic indices.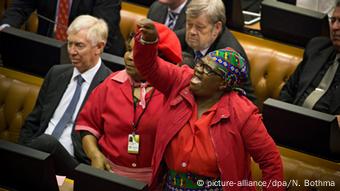 Members of the Economic Freedom Fighters during a debate over the impeachment of president Zuma in April 2016
In the latest attack, four government ministers sought to oust the 74-year old in December following local elections that saw the ruling African National Congress (ANC) party record its worst election results since the first post-Apartheid election in 1994.
Increasing numbers of anti-apartheid veterans, ANC activists, trade unions, civil groups - who once supported him - have called for him to resign, although he does retain loyalty among many rank-and-file ANC party members and its MPs.
Zuma is fighting a court order that could reinstate almost 800 corruption charges against him over a multi-billion dollar arms deal in the 1990s.
Moreover with unemployment stubbornly high at around 25 percent, disaffection with the self-proclaimed socialist is rife.
In 2016, MPs from the left-wing Economic Freedom Fighters (EFF), which won its first seats in parliament at the 2014 elections, interrupted Zuma's speech before being ordered out of the chamber.
Markets down
The South African rand fell 0.5 percent against the dollar at one point ahead of Zuma's speech in which he is expected to outline plans to improve the economy and could also announce a cabinet reshuffle.
The market is particularly concerned about what happens to Finance Minister Pravin Gordhan, who is seen as a countervailing influence on Zuma's more populist tendencies.
Zuma has downplayed the prospect of a significant reshuffle but investors remain nervous given the importance of reform to lift the country's weak growth rate and fend off a ratings downgrade to sub-investment grade.
jbh/msh (AFP, Reuters)