In a decision co-determined in equal parts by an expert jury and call-in votes from across the continent, those countries are Austria, Estonia, Cyprus, Lithuania, Israel, the Czech Republic, Bulgaria, Albania, Finland and Ireland.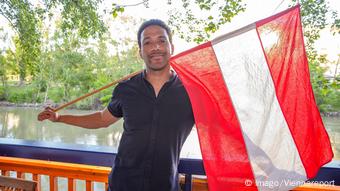 Cesar Sampson of Austria kept his performance simple
Austria's entry is a heart-wrenching love song sung by Cesar Sampson. The charismatic artist displays what some are calling the Salvador effect – reflecting the fact that emotions and simple, heartfelt singing are what propelled singer Salvador Sobral to last year's win, bringing the contest to Portugal. That approach has been adapted by several artists in the current season.
It came as no surprise that Netta's extravagant entry passed the semifinal hurdle. Many have already identified the defiantly original Israeli artist as this year's winner.
Outlandishness is exhibited by Estonia's Elina Nechayeva (top picture) as well, who sings "La forza" draped in a stage-encompassing dress and hits high notes followed by even higher ones, demonstrating her formal training as an opera singer. For sheer contagious fun, Eleni Foureira from Cyprus tosses her long mane of hair while singing the dance number "Fuego."
Unsurprising was Mikolas Josef's interim success as well. The Czech model and street musician looks like a schoolboy, but his song "Lie To Me" packs a punch with rap and dance elements.
A conventional rock ballad with a strong scent of authenticity is served up by Albania's Eugent Bushpepa, while Bulgaria's Equinox offer a sweeping ballad in "Bones."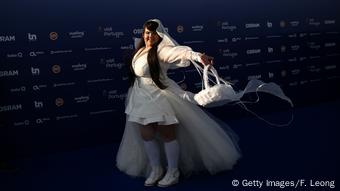 Netta Barzilai of Israel
A gentle love song embellished in the stage act by a same-sex dancing couple is Ireland's entry and will go on to the final on Saturday. A soft ballad from Lithuania probably got pushed up to the next level on the strength of its message, since Ieva Zasimauskaite's voice in "When We're Old" is not particularly strong or characteristic.
In the video to "Monsters," Finland's Saara Aalto sang to a production resembling a soft-core orgy at a metrosexual Last Supper, but with a tamed-down stage presentation in the Eurovision semifinal, the song turned out to have carrying power on its own strength.
A stirring moment of Tuesday's semifinal came during the wait for the television audience vote tally, when Salvador Sobral's song from 2017 sounded out, but sung by his co-contestants from the previous year.
The stage in Lisbon's Altice Arena, designed by Florian Wieder from Germany, was kept simple this year. With fewer stage gimmicks, the focus is on the performances.
A total 43 countries entered the competition. The second semifinal will be held on Thursday and the final on Saturday, May 12, expected to be watched by a television audience of 180 million viewers.