0: Total number of points scored altogether in Eurovision history by Andorra (participating six times).
2: Times Germany placed first (in 1982 with Nicole's "Ein bisschen Frieden" and 2010 with Lena's "Satellite").
2: Number of times a single singer has won the ESC (Johnny Logan of Ireland), the only act to ever do so.
6: Countries that have the best crack at winning in 2018, according to betting agencies. In descending order, they are Israel, Norway, France, Estonia, Bulgaria and the Czech Republic. Germany currently ranks 17 in the list of favorites.
7: Times the most successful country (Ireland) has won the competition, followed by Sweden (6) and Great Britain, France and Luxembourg (5 each).
11: Number of times Norway has placed last, that dubious honor followed by Belgium (10), Finland (9), Germany (8) and Austria (7).
16: Minimum age for an onstage Eurovision performer.
25: Number of songs German songwriter and composer Ralph Siegel has written for the ESC. In 1982 his song "Ein bisschen Frieden" won, sung by Germany's Nicole.
31: Number of ESC winners who sang in English, in nearly half of 61 Eurovision years to date. Fourteen of them sang in French.
34: Times zero points have been awarded to a country.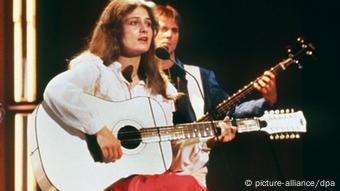 Nicole's 1982 winning ballad was written by Ralph Siegel, who composed nearly two dozen other songs for the contest
34: Times Germany has made it into the top 10 at Eurovision finales.
36.2: Percent TV audience share in all participating countries for the ESC finale in 2017, over double the average normal share for prime time viewing. Although Russia boycotted the event, the share was about as high as in the previous year. The number of online viewers continues to grow: last time, six million people watched the three ESC live shows online, and a further 8.5 million via video on demand.
43: Record number of countries participating in a particular year (2008, 2011 and 2018).
51: Countries that have participated over the history of the song contest.
62: Highest number of times a particular country has participated: Germany, which has missed only once. France has been in the show 61 times, Belgium 60.
100: Minutes the first ESC show lasted, in 1956.
138: Number of times the word "la" (if you can call it a word) turns up in the song "La La La," sung in 1968 by Spain's Massiel.
143: Kilometers of television cable laid in Stockholm's Globe Arena for the live transmission last year.
180: Number of seconds an ESC song may not exceed in length.
204: Number of viewers in millions that watched the three ESC shows on television in 2016, a new record.
387: Number of points awarded to the most successful Eurovision artist ever (Norway's Alexander Rybak in 2009). Sweden's Loreen took 372 points in 2012 and Mans Zelmerlöw, coming from the same country, took 365 in 2015. That would point to a trend in recent years towards clear winners, and a lot of them come from Scandinavia.
1,000th: Song in contest history sung by Brian Kennedy from Ireland in 2006: "Every Song is a Cry for Love." He made it to 10th place. The number of songs has meanwhile passed 1,400.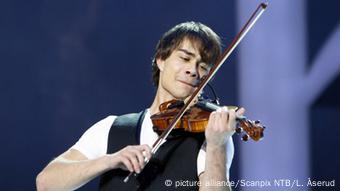 This artist obtained the most points in ESC history: Norway's Alexander Rybak in 2009
1643: Year of the birth of French composer Marc-Antoine Charpentier, the main theme of whose "Te Deum" serves as the official melody of the European Broadcasting Union (EBU), which hosts the Eurovision Song Contest every year. The tune sounds out at the beginning of every ESC broadcast.
1966: Year in which the rule was introduced that each contestant had to sing in their country's native tongue. The rule was later scrapped; now non-English songs are rare. The trend towards English motivates record companies to enter successful artists in the competition.
1969: Year in which there were four winners, after which the point awarding system was reformed.
1974: Year that the act won that went on to have the greatest success (ABBA).
1975: Year in which the 12-point system was introduced.
1994: Year that saw the most impressive entry by a country completely new to the contest, by Poland. The song "To nie ja!" sung in Dublin by Edyta Górniak made it to second place.
2015: Year in which the ESC entered the Guinness Book of World Records as the longest-running annual music television music competition.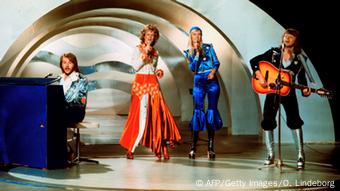 ABBA won in 1974
2016: Year in which the ESC finale was broadcast live to the United States for the first time
2016: Year of the latest reform in the ESC point awarding system. It used to be that each country would combine its jury vote and national television vote, convert the two into points and announce them individually. Now the jury rankings are announced first, and the tele-voting results later. The new system yields much more suspense as the voting comes in country by country. How long it will take until the system is reformed anew is unknown.
2,645: The factor by which an audience vote in the tiny country of San Marino outweighs one from Germany, due to the population difference and the fact that each country is given equal voting rights.
38,000: Record size of an ESC live audience, in Copenhagen's Parken Stadium in 2001.
180,000,000: Estimated number of viewers per year.
In the billions: Number of total viewings in Eurovision history.