Inclement weather forced the Sea-Watchto make a two-day stop in Tunisia. The sole ship of a private German maritime initiative aimed at saving refugees in the Mediterranean Sea was launched in June and is based on the Italian island of Lampedusa. On Tuesday afternoon, the ship was headed once again to the search-and-rescue-area 24 miles from the Libyan coast. Despite the reception being spotty on the ship's satellite telephone and with the rhythmic pounding of the engines in the background, DW spoke to Robel Hailemarion, 35, the medical doctor on board.
DW: You are part of the Sea-Watch's seventh rescue mission. Where do you expect to encounter refugee boats?
Robel Hailemarion: The first hot spot where we expect migrants is about a 12-hour sail from where we left port today. From there, we will patrol the area in international waters 24 miles off the Libyan coast.
You surely keep a round-the-clock look-out for refugee boats on the horizon, but is there any way they can call out for help, too?
Some of them have satellite phones. Those that do will send an emergency call to the Mediterranean Rescue Control Center in Rome, and that call is passed on to all ships in the area, maybe to us if we are closest. They already know us! We don't have the capacity to take people on board. We come alongside, and install a refugee island if necessary, or we supply them with water and life jackets - and coordinate rescue by a bigger ship - Doctors without Borders or the Italian coast guard. It's actually good that we are a small vessel, because once Doctors without Borders take over, for instance, we can move on to the next call. Doctors without Borders have to go to Sicily, which means it takes them three days to come back.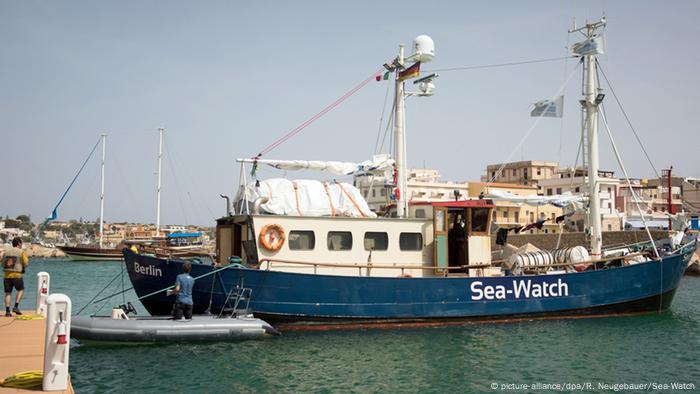 The Sea-Watch, a 100-year-old fishing boat , is now outfitted with a bigger fuel tank and satellite phone
How do you rate the state of the refugee boats? Do they even stand a chance of making it?
The boats that usually depart from Tripoli are rubber boats, not at all suitable for the open sea. The people need to be rescued around the 24 mile zone - if they go further they will certainly die. There are more than 100 people on these boats, totally overcrowded, so the boats sink easily.
How do the refugees react when they see the Sea-Watch?
First, they have to understand who we are. It could be Libyan authorities approaching, although the Libyan military doesn't go out to sea anymore. But the refugees don't know that. Many people go via Libya because the government there no longer functions at all, if people make it there, they at least have a chance. So the refugees think, who's this? Once they realize, they are more than happy. We bring them water - which is donated - and life vests, which the big ships return to us so we can use them over and over again. And we stay until all have boarded a coast guard vessel or Doctors without Borders ship. We've saved about 2,000 people since June, thanks to this cooperation.
The ship's crew rotates every two weeks. Who is on board with you now?
We are all volunteers: a very experienced intensive-care nurse, the captain, Harald Höppner, who is the initiator of the project, a reporter, a lady who is involved with our Lampedusa base, and three very experienced seamen.
Personally, I am so happy that I can participate in this project. My parents are from Eastern Africa, where a lot of the migrants on this dangerous route to a safe place come from. This is very close to my heart. It's the first time I have the occasion to finally do something against the mass dying in the Mediterranean Sea.
Apart from the Sea-Watch, there's one other private initiative assisting and saving refugees headed to Europe from of the Libyan coast. Do you feel like you're doing a job the authorities should be doing?
Yes, actually we're doing the government's job. They must come up with a concept that makes sure people don't die in the Mediterranean Sea. The Italians have done an amazing job with the Mare Nostrum operation, they rescued over 100,000 people. They are still doing a great job. But I can't understand why the EU is so passive on this issue. Now we have Triton [the EU rescue mission], with [the EU border protection agency] Frontex patroling the Italian shores. But it's still 150 miles away from the spot where people are dying! From our point of view, it's useless. There are also warships from Germany, Ireland, England, but since there is no conflict, most of the time, they're in port. That's so sad.