Judith Akuha, 18, sits on a small wooden bench in rural eastern Nigeria with a blank stare. She now and then shoos away a few chickens which have come to pick melon seeds from a small bowl. She then returns to the bench and continues staring into the distance. She doesn't show any emotions.
This apathy is typical for those who came back from Nigeria's southwest. Judith is haunted by her memories from the past three years. Her ordeal started when her now-deceased uncle promised to help her.
"He said he wanted to send me to school in Yorubaland. He even paid for the trip," she recalls.
But that couldn't have been farther from the truth. Her uncle had teamed up with human traffickers. She doesn't know why he decided to arrange for Judith to be sent there or if he was given a reward.
Instead of going to school, she had to go work on the fields.
Read more: Nigeria: Fighting hunger and Boko Haram
Judith was forced to work on a field all day long - she was promised a good education
"I had to get up at 6 in the morning and was brought to one of the fields. In the evenings, I was brought back," she says with a monotone voice.
She talks about the hunger and the shortage of everything. She was only given some money to buy a few cookies.
She said the only thing more degrading than the lack of food was her torn and dirty rags. "I didn't have a second set of clothes."
Human trafficking and slavery
When people here in Benue refer to "Yorubaland," they refer to the southwest. For decades, people have been flocking to the region for work. In the 1980s, farmers came to Benue and negotiated wages that were actually paid after the work was done.
Farmers from the opposite end of the country came to look for workers here due to the similarities in agriculture.
What was once merely an offer people could decide on has now turned into something else entirely, says Valentine Kwaghchimin, who works for Caritas in the provincial capital Makurdi.
He's collected data in the past year and says the voluntary approach is no longer. "The process of moving them to those locations is purely a trafficking arrangement," he says, adding that conditions there translated to modern slavery.
Forced into prostitution
Workers were denied basic rights, according to Kwaghchimin's research. They are trapped on farms and are only allowed to leave when being supervised. They are not allowed to keep their cell phones. They sleep on the floor in crowded rooms. Often, they don't have access to toilets.
That's what Judith describes, too. Other women recount rape and forced prostitution. Those who don't do as they are told are denied the little food rations they were given before.
Kwaghchimin estimates about 11,000 people from Benue are living under these conditions in the southwest.
The real figures are probably much higher.
Sylvester Udam Ugbede has observed a similar trend in Naka, a small town of around 30,000.
The pensioner has seen many people leave for the southwest.
"The figures depend a bit on how many workers are needed at the moment. Especially young men are at risk; those who have no one to pay for their schooling," he says.
While girls are lured with the promise of a good education, boys are promised good wages - about 30,000 to 40,000 Naira (70 to 93 euros; $81 to 108). The minimum wage in Nigeria is 18,000 Naira.
No chance for justice?
But most of them will never see that kind of money.
"Initially they say the harvest was bad," Ugbede says. "Then the harvest needs to be sold. They are always put off."
Still, most of them don't go to the police. "Now and then someone manages to demand full payment. But more often than not this doesn't happen. Because you have to pay the police to take on the case."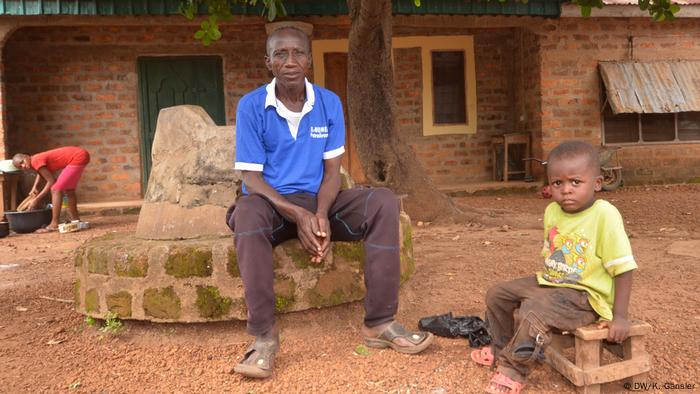 Police demand money before they start taking your case, says Ugbede
The National Agency for Prohibition of Trafficking in Persons (NAPTIP) has become aware of the system that's organized just like international human trafficking and forced prostitution. Daniel Atokolo who heads NAPTIP's regional office in Makurdi says they are trying to raise awareness for people to stay home and form cooperatives to work the fields.
"If you want to farm, please bear in mind the food basket of the country is in Benue," he says.
Traumatized and alone
Judith who now lives with friends in Naka says she has never heard of NAPTIP. She also doesn't know of another organization that is offering therapies for victims of human trafficking. She received help from a woman whose name she doesn't know.
"She approached me and said 'Judith, if I give you money for transportation, will you go home?' I said yes!"
She wouldn't have had the money to flee, had it not been for that woman.
Many return like Judith after years, feeling traumatized and with nothing to show for. All they have is shame - shame that they didn't make it - and their reclaimed freedom.