Every afternoon, dozens of young drinkers gather on the square in central Cottbus, after work, after school or after a day just hanging out at home. And the more they drink, the more aggressive they become toward shoppers passing by. In the past year, police have been called on to intervene about 140 times.
As a result, the eastern German city wants to introduce a ban on street drinking. Laws are already in place in parts of Berlin as well as some other regions, and now police officials in Cottbus say they need better guidelines on how to handle the drinkers.
"This is a very unpleasant situation, and it's not doing the city or its reputation any good," said Wieland Eschenburg of Cottbus' city council. He said the city council has been searching for a solution that would be effective over the long term.
Questioning the point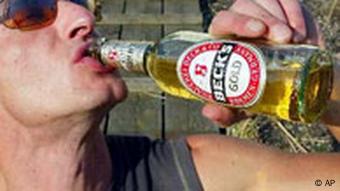 Germany has long had relaxed laws around public alcohol consumption
Others, however, are questioning the point of the restrictions.
"Banning things makes them more attractive so the kids get more of a kick, and how do you punish youngsters anyway?" asked one city resident. "Wagging a finger and telling them off won't work."
Another resident said a ban would be unfair: "Most people come here for a beer after work and just want to hang out with their friends and talk about what kind of a day they've had -- if people don't like it, tough luck."
But people feel threatened and the police are at a loss. They believe an alcohol ban is the only answer.
Public support
The proposal has met with widespread public support -- almost every local shop owner dislikes the presence of the young people on the square.
"They're a terrible blot on the landscape -- knocking back their alcohol in public," said one. "All that beer and mulled wine and then they start running riot and it ends up getting really noisy."
"First thing in the morning, we have sweep up the glass so it doesn't ruin everyone's tires," says another. "It's dreadful what goes on here. If the police want an alcohol ban, they should introduce one, not just talk about it but do it."
Still, experts say that in legal terms, introducing an alcohol ban is far from straightforward.
Spandau's solution
Several years ago, the Berlin suburb of Spandau faced a similar problem when gangs of drinkers started regularly meeting in the pedestrian zone. An alcohol ban soon got rid of them, but today, the ban is no longer in place. It had to be lifted for legal reasons.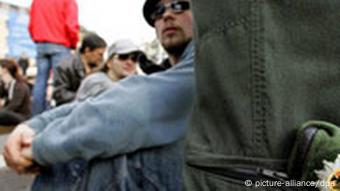 The Berlin district of Spandau forbade drinking in public for a time
Meanwhile, the authorities in Berlin's Prenzlauerberg neighborhood are trying a different strategy. Although alcoholics and homeless people hang out on most of the district's squares, the residents don't seem to be too bothered. It's as though everyone has tacitly agreed to get along and the local council has no intention of getting tough.
"I think that would be the wrong approach, and it would have to be done in a neighborly way in the same way other neighborhood conflicts are resolved," said Jens-Holger Kirchner of the Prenzlauer Berg District Council. "If that failed, we might consider increasing a police presence as a way of keeping the peace."
Out of sight
Social workers at Berlin's Treberhilfe outreach project are all too familiar with their clients' alcohol problems. They know these people can get out of hand when they've had too much to drink, but they don't think alcohol bans would help either.
"The difficulty then is that these people are hounded out of public spaces and their problems simply continue behind closed doors, which means we can longer reach them," said social worker Ingo Tuchel. "That can get very problematic."
But many people would prefer it that way -- out of sight, out of mind.