Named after the ancient Greek god of the "right moment," the KAIROS Prize has been awarded to European artists and scientists in the fields of art, music, architecture, design, film, photography, literature and journalism since 2007. With its 75,000 euro ($85,275) cash prize, it is one of the most highly endowed cultural awards in Europe. The award ceremony takes place on Friday (08.04.2016), at the Deutsches Schauspielhaus in Hamburg, Germany's largest theater.
This year's laureate is Teodor Currentzis, a Greek conductor who has, among other projects, founded his own orchestra in Siberia and has given the Opera in Perm an international status.
The award acknowledges the work of this musician who, "transcending traditional boundaries in the arts, is uncompromising in his determination to resist the constraints to which today's music business is subjected," according to the jury's statement. The German weekly "Die Zeit" wrote: "The music world could learn a lot from the Perm Opera."
Miles away from cultural centers
This model of vitality is surprisingly emerging in a city some 1,150 kilometers (715 miles) north-east of Moscow on the western edge of the Ural Mountains, at the very eastern limits of Europe. During the Soviet era, Perm was a strategic center of arms production, and its name didn't even appear on maps. But the city of nearly one million inhabitants also has well-established cultural traditions: An opera house was founded there in 1878, and 1926 saw the city's first ballet season.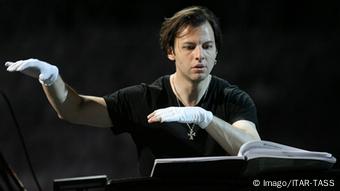 The Perm Opera House is becoming world famous thanks to his uncompromising work
Since 2011, Teodor Currentzis has been music director of the Perm Opera and Ballet Theatre and enjoys cult status there.
Born in Greece in 1972, he started studying conducting in Athens at age 15 and was admitted to the St. Petersburg Conservatory when he was 22. He later became a naturalized Russian citizen.
In Russia, he's celebrated as a kind of messiah of intellectual freedom - especially now that many of those freedoms seem threatened there due to state control and commercialization. Currentzis adds his personal perspective to the situation: "When I was born," he told DW, "a military dictatorship ruled in Greece that was even worse than Pinochet or Stalin's gulags."
A composer's baton
The lanky musician with long, dark hair and expressive eyes looks younger than his 44 years of age. He conducts with flamboyant gestures and extremely nuanced facial expressions, giving the impression that he has to give everything he's got. A born maestro - yet not in his own words in an interview with DW: "I never had the ambition to become a conductor. Rather, I see myself as a composer who is not writing music now because I'm busy conducting. But that will change."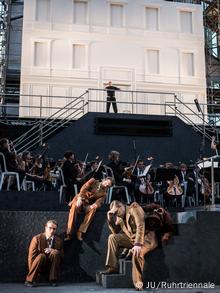 He offered a radically innovative interpretation of 'The Rhine Gold' at the Ruhr Triennale
His personality and looks alone are attracting a younger audience to classical concerts. But his interpretations are also highly praised by international critics - especially when he performs with the period instrument ensemble MusicAeterna, which he founded in 2004 in Novosibirsk, Siberia.
"A creative, alert mind flows through the dry notes, breathing life into them," wrote "Die Zeit." Currentzis calls MusicAeterna an "ideological project, a mission and also a vision. This is how I see music making: uncompromising, selfless, 1,000 percent."
At home in Perm - but for how long?
Teodor Currentzis is also the main guest conductor of the Southwest German Symphony Orchestra of Baden Baden and Freiburg and a guest on many stages in Europe. For a recording of Mozart's "The Marriage of Figaro," he received the ECHO Klassik Award. His interpretation of Wagner's "The Rhine Gold" at the Ruhr Triennale in 2015 was described as "radically innovative."
Will Perm be able to hold on to him for much longer? "I'm quite happy in this city that was punished by the Soviet Union for being loyal to the czar," he said, noting that he enjoys greater artistic independence there than he would in Moscow or St. Petersburg. Currentzis reportedly enjoys a new love affair every year, owns a white dog and a big wooden house on the bank of the river Kama. His parties are said to be legendary. "In cities like these you feel the innocence of the unknown," he says.
Currentzis also reflects on current developments in his adoptive country. "Of course, I find it very sad to see what's happening here," he said. "We people who love everything about this land try to stand for freedom and justice in Russia. But look at the political games happening behind the shop windows of the so-called 'civilized' world, and you'll see that they are just as crude and dictatorial. It doesn't matter if it's written in Cyrillic or Latin letters: It all means the same thing. "