It's a first for German film director Wim Wenders, 70, though the Berlin Staatsoper and even the Bayreuth Festival have reportedly tried for some time to secure a deal with him.
The Berlin State Opera announced Tuesday (29.03.2016) that Wenders will be directing the opera "The Pearl Fischers" by French composer Georges Bizet, who is best known for "Carmen." When the work premieres on June 24, 2017, Daniel Barenboim - general music director at the Berlin State Opera - will be in the conductor's pit.
The opera company's director, Jürgen Flimm, said Tuesday that Barenboim had "had a long flirt" with Wenders, which had finally panned out.
While it's his first opera, Wenders is also an accomplished photographer and frequently exhibits his work.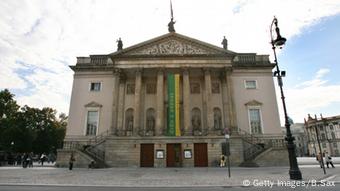 The Berlin State Opera is scheduled to move back in next year
Berlin theater to reopen in October 2017
The opera's home base, the Staatstheater on Berlin's famous Unter den Linden boulevard, has been undergoing renovation for years, with performances held in the Schiller Theater in the interim.

The opera said Tuesday that the Staatstheater would most likely reopen on October 3, 2017 on the anniversary of German reunification in 1990. Its renovation has been much more time consuming and costly than originally planned.
Also on the schedule for the 2016/2017 season are eight premieres, including "The Damnation of Faust" by Hector Berlioz. The opera is to be directed by "Monty Python" co-founder Terry Gillian and conducted by Sir Simon Rattle.

Barenboim said he plans to stage a new production of Richard Wagner's "Ring" cycle in 2020 - even though the neighboring Deutsche Oper also has a new production of the four-part opera cycle in the works.
kbm/ (with dpa)