More than 45,000 imported cars were recorded by Uganda's Revenue Authority in 2014. Of these, only 15 percent were new and 85 percent used. Many of the imports come from Japan. "The vehicles imported are largely old used vehicles with an average age of 16 years and instead of crashing them in Japan they say: let us send them to countries like Uganda," laments Uganda's Environment Minister Frank Tumwebaze.
Among other things, Uganda's newly amended Traffic and Road Safety Act seeks to outlaw the import of old cars, arguing that this will protect the environment. Vehicles older than eight years would be hit by a 50 percent environmental tax, while vehicles between five and eight years old would be subject to a tax rate of 35 percent. Industrial vehicles and goods trucks would pay lower taxes.
The increase of the environmental tax is long overdue, thinks Tony Achidria of Uganda's National Environment Management Authority (NEMA). "It's not just pollution that concerns us, but smoke from old cars increases the risk of road accidents as drivers have been known to overtake in order to avoid inhaling the fumes," he told DW, adding that poor visibility caused by the emitted fumes is another problem. Overloading of old trucks and vehicles increases the road safety problems, says Franklin Kugonza, commissioner with the Ugandan police's Inspectorate of Vehicles.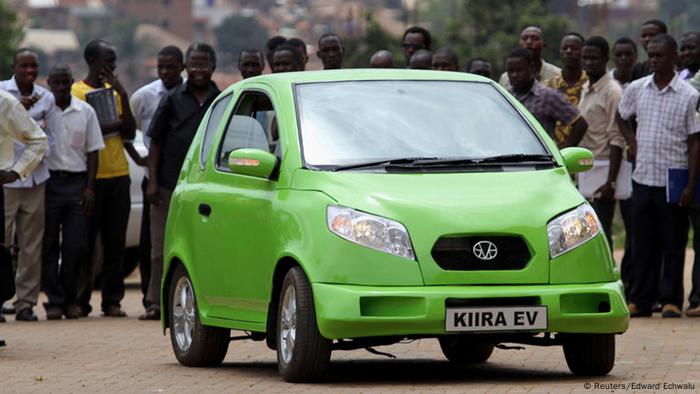 Makerere University's first Kiira EV (electric vehicle) was presented in 2011
Automobile ambitions
Another reason for the increased taxes on imported cars is Uganda's push for its own carmakers. The Kiira Motors Corporation is Uganda's own car manufacturer that was created as a result of Makerere University taking part in an international research project on hybrid electric cars in 2007.
Kiira Motors, which is a cooperation between the Ugandan government and the university, has since designed a number of electric and solar vehicles. In early April, the government announced that it would invest 120 billion Ugandan shillings ($32.4 million, €26 million) to kick-start the commercialization of Kiira's electric vehicles.
Paul Musasi, Kiira Motors' CEO, thinks that the ban on the importation of old vehicles is timely. "The decision by the government to fully fund the project for setting up the Kiira vehicle plant is a testament of the commitment of the people of Uganda to developing their nation," he said. "This is not only to get access to new vehicles made in Uganda but also to create possibilities for wealth and jobs."
How do Ugandans benefit?
Despite the government's enthusiasm over its plans to build its own home-grown car industry, Ugandan citizens are not so happy about the highly taxed vehicles. Kampala resident Debora Natukunda thinks that cars as old as 10 or 15 years should still be allowed into the country. "[The tax] means some of us might have to live without ever driving [our own] car."
Ahmed Mudasin, a Pakistani importer of second hand vehicles from Japan, also thinks that it won't be business as usual. He says his customers cannot afford new cars. "The cost will go up and people will not buy." Moreover, he says, the new models on the market have low suspension, making them unsuitable for Ugandan roads.
His workers are equally worried "All of us will be affected because we will be paid less. When the high taxes are levied and new cars remain expensive, the sales will be low," one of them says.
But there are also people who are happy about the change. Car mechanic Ivan Sentongo, for instance, thinks that repairing new cars will be more profitable for him than working on older ones.