"The road has been cleared for a cabinet decision about a visible signal against exile and displacement," said Bernd Neumann, Germany's cultural affairs secretary, following a meeting Tuesday, Feb. 5, in Warsaw with Wladyslaw Bartoszewski, a high-raking advisor to Prime Minister Donald Tusk.
In the meeting, both sides "stressed the importance of open historical dialog for Polish-German relations and the need to seek forms that will aid historical truth and prevent misunderstanding," Neumann and Bartoszewski said in a joint statement.
For Germans, the goal of the memorial is "to represent the historical relationship while at the same time taking the deportation of the Polish people into account," Neumann added.
Controversial interpretation of history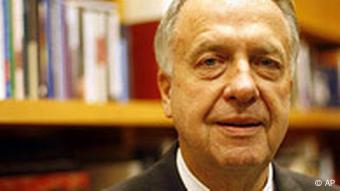 Germany's Neumann has fought for a "visible symbol" against exile
Both Poland and the neighboring Czech Republic have long been hostile to the plan. Some 12 million ethnic Germans were forced to leave their homes in Central and Eastern Europe in the years following World War II. Among the last victims of the war that began when Adolf Hitler invaded Poland on Sept. 1, 1939, hundreds of thousands of expellees died as they fled what were then East Prussia, Silesia, Pomerania and Sudetenland.
Efforts to commemorate the expellee experience have proved to be an ongoing thorn in the relationships between Germany and Poland, which has accused Germany of wanting to turn aggressors into victims.
In 2000, Germany's Association of Expellees (BdV), led by Erika Steinbach, announced plans for a Center Against Expulsions. The center was opposed by Germany's ruling coalition, which at the time was made up of the Social Democratic Party (SPD) and the Greens. Yet when the government changed in 2005, ushering Angela Merkel's CDU-led coalition into a power-sharing agreement with the SPD, the parties looked for a compromise.
They agreed that it was important for Berlin to have a "visible symbol" against expulsion. But instead of only focusing on German expellees, the exhibit would emphasize Europe-wide issues of forced exile.
Prior Polish regime strongly opposed plan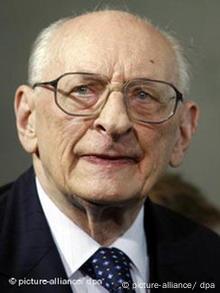 Bartoszewski was charged with improving ties with Germany
"Our neighbors are invited to take part in the design," the Web site of Germany's Culture Ministry promised. The German parliament designated 750,000 euros ($1.1 million) from the German parliament for the exhibit.
Polish criticism of the plans for an expellee center was particularly strong during the conservative-nationalist reign of the Kaczynski brothers. But when Poland's new, liberal Prime Minister Tusk took office in November, he appointed Bartoszewski -- a former Polish foreign affairs minister, Auschwitz survivor and key figure in Polish-German post-war reconciliation -- to improve relations with Poland's neighbor to the West.
After Tuesday's talks, Poland said that while it "does not foresee formal participation in this initiative," it nonetheless would "not exclude the participation of Polish historians."
Both sides agreed on "the necessity of activating a European network of 'Remembrance and Solidarity' which should become an important forum for European historical dialogue."
Bartoszewski is expected in Berlin for further talks on Thursday and Friday, his office told news agencies.