An aid convoy of 46 trucks finally entered Syria's eastern Ghouta on Monday, but aid authorities have said they are concerned about ongoing shelling and the confiscation of medical supplies.
The 400,000 civilian residents of the region have spent the past two weeks seeking shelter as Russia-backed government forces engage in one of the most intense sieges in the civil war's seven-year history.
Read more: Syria: US accuses Russia of killing civilians in eastern Ghouta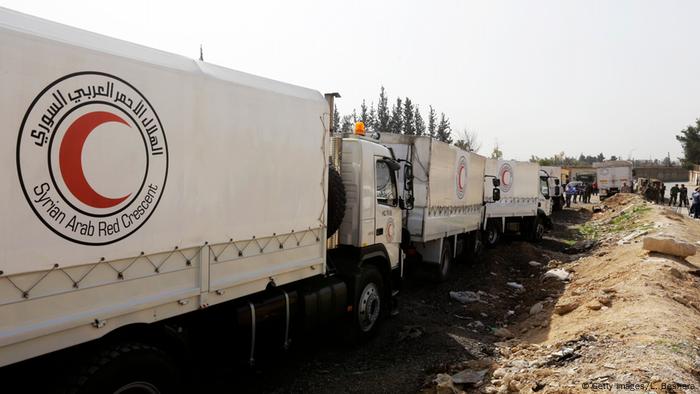 The Red Cross reported that trucks were on their way to eastern Ghouta
Stripped of supplies
A convoy of empty buses and 46 trucks carrying health and nutrition supplies and food for 27,500 people entered the eastern Ghouta town of Douma.
Syrian officials rejected a large amount of health supplies including trauma kits, surgical equipment, dialysis instruments and insulin — nearly emptying three trucks, according to a World Health Organization spokesperson.
The Syrian Observatory for Human Rights reported continued airstrikes at nearby front lines as the convoy drove on. A reporter for AFP news agency confirmed that airstrikes could still be heard as the aid was being unloaded.
Russia blamed the US for failing to reign in rebels during the designated ceasefire windows.
Read more: UN says Syrian actions in eastern Ghouta may amount to crimes against humanity
First step
Senior UN official Ali al-Za'tari, who is accompanying the convoy, told Reuters that he was "not really happy hearing the loud shelling that is around us" and that "we need to be assured that we will be able to deliver the humanitarian assistance under good conditions."
He said it would take hours to unload the trucks, which might not be able to return until after nightfall.
A spokeswoman for the International Committee of the Red Cross called the delivery a positive step but said more would need to be done. Ingy Sedky said the ICRC would require repeated and continuous access to eastern Ghouta.
Read more: UN calls on Russia to implement full 30-day ceasefire in eastern Ghouta
Stalled attempts: For nearly three weeks, aid agencies have been trying to enter the besieged rebel-held enclave since the opening of daily "humanitarian corridors" but have been hampered by ongoing shelling and stringent time constraints.
Ongoing siege: Syrian government forces lost control of the semirural region in 2012 and recently launched a major offensive to regain control from jihadi groups. As of Monday the Syrian regime control a third of the rebel enclave, observers report. According to Syria's Central Military Media, troops advancing from the east were only 3 kilometers (1.8 miles) from meeting up with troops advancing from the west, which would cut the area in two.
War crimes: The UN has accused Syrian forces of perpetrating war crimes in its bloody push into eastern Ghouta, home to 400,000 people. On Monday the UN human rights body launched an investigation into attacks on civilians trapped in the area, and strongly condemned the bombardment of hospitals, the blockade of aid convoys and reports of chemical weapons use.
Read more: What foreign powers want from the Syrian war
aw/rt (Reuters, dpa, AFP, AP)