On Thursday, the United Nations called on Russia to implement a 30-day ceasefire in eastern Ghouta, reporting that the "compromise" of a daily five-hour pause in attacks was ineffective for delivering aid.
In February, the UN Security Council voted unanimously for a 30-day Syria-wide ceasefire to allow aid deliveries and medical evacuations, but Russia-backed government forces have only implemented a brief daily pause in their otherwise relentless offensive in eastern Ghouta, a region outside of Damascus.
Read more: Syria blame game intensifies over stalled Ghouta truce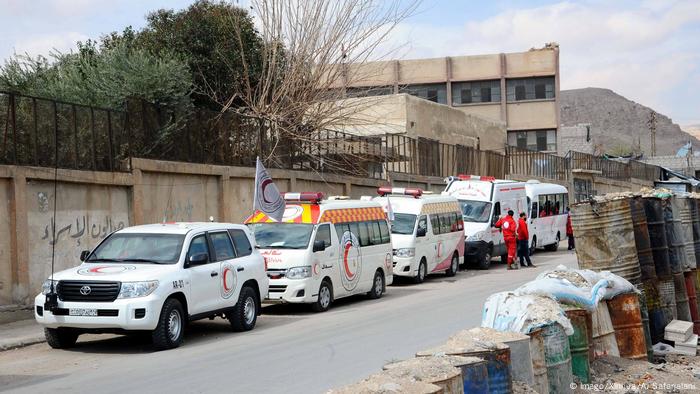 No civilians have been able to flee from Eastern Ghouta during the five-hour pauses
'Copycat of us'
Two UN envoys addressed the issue, both saying it was impossible to deliver aid and evacuate medical cases effectively within a five-hour window.
Jan Egeland, head of the UN humanitarian taskforce for Syria, told diplomats from 23 states attending a weekly meeting in Geneva:
The only convoy to reach the region in 2018 came in mid-February and had aid for just 7,200 people. No one has successfully used the new humanitarian corridors. There are some 400,000 civilians in eastern Ghouta.
A "two-way" humanitarian corridor is needed, allowing several convoys each week, while 1,000 priority medical cases must be evacuated for treatment.
"We have 43 trucks standing by to go there and full warehouses to load into the trucks as soon as we get the permit."
Read more: What foreign powers want from the Syrian war
UN Syria envoy Staffan de Mistura told reporters:
The UN will continue to seek the 30-day ceasefire mandated by the Security Council.
"We will continue asking until we are red in the face, blue in the face."
"We are determined because otherwise this becomes the copycat of Aleppo."
The US State Department later slammed the humanitarian corridors as a "joke," saying people were afraid to use them for fear of conscription, exile or death.
Elsewhere in Syria on Thursday, a convoy with aid for 50,000 displaced people arrived in Afrin, according to the International Committee of the Red Cross. Turkey continues to fight against Kurdish rebels in the area.
Hundreds killed: The bloody campaign in eastern Ghouta, a series of towns and farms outside the Syrian capital, has killed more than 550 people in just 11 days, according to the Syrian Observatory for Human Rights. It is one of the last major rebel outposts near Damascus and the recently stepped-up efforts to crush rebel groups has had massive collateral damage.
Complex task: Delivering aid to war zones requires tricky logistics. The UN and the International Committee of the Red Cross both said it is impossible to deliver humanitarian aid in five hours. They say it can take a full day just to pass all the checkpoints, and then they have to unload the goods.
Seven-year war: More than 300,000 people have been killed since the conflict began in 2011 following a government crackdown on protesters calling for the release of political prisoners and for President Bashar Assad to step down. Since then, the conflict has evolved into a multifaceted war, drawing in global superpowers, neighboring countries and non-state actors.
aw/sms (Reuters, AP, AFP, dpa)
DW editors send out a selection of the day's hard news and quality feature journalism. You can sign up to receive it directly here.