Although it had not been officially announced, Putin had been expected to visit Turkey on October 14 for a two-day working visit. Syria was expected to be high on the agenda. The positions of the two countries on this issue differ greatly. The Kremlin has given full support to the Syrian President Bashar Assad while Turkey is openly calling for his immediate removal.
Despite this disagreement, Turkey and Russia cooperate in many fields from nuclear energy to tourism. Trade between the two countries is expected to reach $35 billion this year and a target of $100 billion has been set for 2015. That would suggest that the two need each other - but the Syrian issue has turned into a big headache.
When the Turkish prime minister, Recep Tayyip Erdogan, visited Moscow in July, he disclosed that he had made suggestions to Putin as to how to deal with the period after Assad's removal from power, but he was waiting for an answer. It's not clear if that is still the case, but Erdogan recently publicly called on Russia to change its stance on Syria.
Stubborn support
Russia has several reason for its continued support for Syria. First of all, Syria is now Russia's final stronghold in the Middle East. It hosts Russia's sole naval base in the Mediterranean and it buys $1.5 billion worth of weapons each year.
But there is much more at stake than that. Moscow fears that the so-called Arab Spring, which toppled regimes in Tunisia, Egypt, and Libya master, was master-minded by the United States. Syria could be next, then Iran - and finally Russia. Russia, which has 20 million Muslim citizens, fears a victory drive by radical Islamists.
And there is another less tangible reason: although it has little to do with logic, Russia feels a sense of loyalty towards Syria, as it did towards the former Serbian leader Slobodan Milosevic, whom it continued to support even after the rest of the world had turned away from him.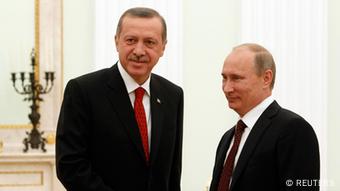 Erdogan, left, and Putin may have to wait for their next meeting
So far, the Kremlin has not officially linked the cancelation of Putin's visit with Syria. Kremlin spokesperson Dmitry Peskov said in an interview with the Russian daily Vedomosti that the cancelation was due to Putin's tight schedule and that the visit will definitely take place later. But the paper quoted unnamed Kremlin sources saying that Putin felt visiting only one side of the current conflict might lead to misinterpretations on both sides.
In another explanation, according to the English language Hürriyet Daily News, Turkish diplomats say that the postponement was merely technical, due to the fact that some documents were not ready for signature.
But despite the significant economic relations between the two sides, Russia could be caught in the crossfire between Turkey and Syria, and it might be forced to choose between them if events escalate on a military level.
Disagreement over gas
There is one other area in which Russia and Turkey do not see eye to eye: in the energy field, which is so central to the Russian economy, Russia feels that Ankara has not been giving its full support to the South Stream project - a gas pipeline which goes through Turkish territorial waters.
Meanwhile, the Russians are not putting their weight behind a pipeline proposed by Turkey from Samsun on the Black Sea to Ceyhan on the Mediterranean. And another deal involving 6 billion cubic meters of Russian natural gas is still awaiting finalization.
So there are reasons to fear a possible crisis between Turkey and Russia - but it would not be a surprise if the two countries, who were already enemies once, during the Cold War, don't find a way to protect their mutual interests in good relations.