For many families, the holidays are an important time of the year, filled with get-togethers, banquets, and of course the near-ubiquitous gift-giving around the Christmas tree. For children, the gifts usually focuses on one area: toys.
But would you buy your girl a gun? Or your boy a doll? Some Swedish retailers think you would.
Recently, Top-Toy, one of the largest toy businesses in northern Europe and a licensee of Toys "R" Us, published gender-neutral Christmas catalogs that were distributed throughout Sweden. The catalogs included images of girls playing with toy cars and guns, and boys playing with dolls, cosmetic devices and kitchen sets.
It was an important step, said Elisabeth Trotzig, Advertising Ombudsman of Reklamombudsmannen (RO), Sweden's top marketing watchdog, in an interview with DW.
"Swedish society is seeking an egalitarian relationship between men and women," said Trotzig. "By encouraging children to act upon the gender stereotypic roles and play with gender stereotypic toys that have been shown in previous catalogs, children are being excluded from choosing what they want to play with and how they want to act. Because, in reality, children play with all kinds of toys."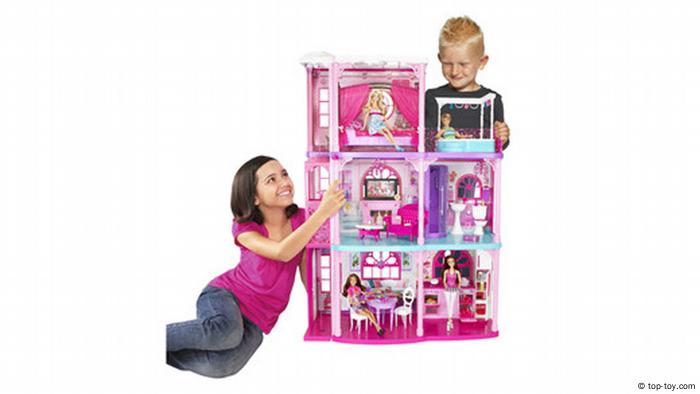 Gender equality has become natural in Sweden
Cultural value
For Sweden's roughly nine million inhabitants, gender equality forms part of the bedrock of cultural values. Walk the streets of Stockholm, Gothenburg or any other city, and one is as likely to see a pair of men pushing baby strollers as women. Of the 480 days of paternity leave the law requires, at least 60 of those must be taken by the father. Earlier this year, there was even a debate over adopting a gender-neutral pronoun, "hen," rather than "he" or "she."
All of that makes non-gendered holiday advertising only natural, said Trotzig.
"Equality between sexes, in society in general, has been high on the political agenda for a long time in Sweden," she said. "It is also proven to be a competitive advantage for advertisers to listen to the consumers 'voice.'"
Controversy abroad
Overseas, the Top-Toy catalogs have been met with controversy.
In Britain, Thomas Pascoe of The Telegraph came under fire for writing that, in Sweden, "boys will be girls," and calling Sweden's strict anti-discrimination laws "insane." In response, Jenny Strömstedt of Swedish tabloid Expressen compared Pascoe to the cartoon character Fred Flintstone, because he "seems convinced that we still live in caves."
One of the most vocal critics of Sweden's approach to gender-neutrality has been American journalist Ben Shapiro.
"[T]he liberal war on science - which ranges from abortion to sex roles - suggests that science is obsolete, and that social engineering can make boys and girls identical," he wrote in a late November article for conservative blog Breitbart. "It's absurd, insulting, and psychologically damaging. But that's Sweden."
But Nathalie Rothschild, a freelance journalist living in Stockholm, told DW that many Swedes don't see gender neutrality as such.
"I think a lot of Swedes feel quite positive towards it," she said. "Some people don't like the idea of gender neutrality. But the discussion is bigger than the number of people who are involved with it."
David Landes, editor of news website The Local, echoed Rothschild's views. "It did attract attention, but I wouldn't call it necessarily controversial," he said in an interview with DW. "Really, it's simply a smart marketing decision."
Landes noted that, previously, Top-Toy was reprimanded by RO for its Toys "R" Us catalog after a group of sixth-graders charged that the catalog for 2008 was discriminatory against women and girls, while being filled with gender stereotypes.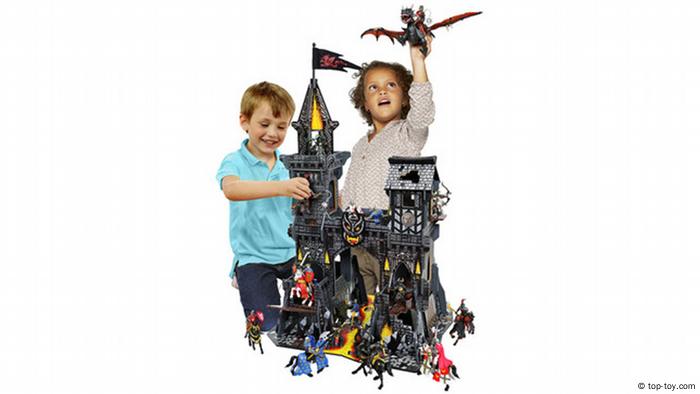 Swedish society seems to agree: Any toy that's good for a boy is good for a girl - and vice versa
'Not a boy or girl thing'
With equality so deeply ingrained in societal values, it's unsurprising that RO has not received any complaints over the new catalogs, said Trotzig. "RO has not received any complaints about the current Christmas catalog from Top-Toy, so it is obviously not perceived by consumers as showing gender stereotypes in a way that is disparaging for men and women," she said.
"It's another example of the gender-neutral initiative [in Sweden]," said Rothschild. "It's been an ongoing initiative."
According to one Top-Toy executive, the catalogs, then, are a part of that initiative.
"We have produced the catalogs for [toy companies] BR and Toys "R" Us in a completely different way this year," Jan Nyberg, director of sales at Top-Toy, told Swedish news agency TT in late November. "With the new gender thinking, there is nothing that is right or wrong. It's not a boy or a girl thing; it's a toy for children."