Youssef Mahoammed E.H.'s brother Saddam was killed Sunday during a gun battle in northern Lebanon. He was one of six people suspected in a failed plot to bomb German trains last year.
Youssef Mohammed is believed to be one of two people who allegedly placed the bombs on regional trains in leaving Cologne last summer and is currently in custody in Germany awaiting trial.
Saddam E.H. was believed to have helped plan the attack, but had not been apprehended.
Leader of militant group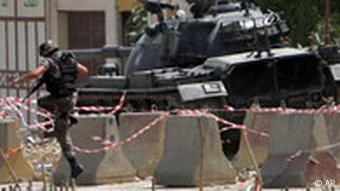 Fighting in Lebanon has brought concerns of instability
Saddam E.H. was allegedly a high-ranking member of the militant Fatah Islam group. German investigators suspected a terrorist organization was behind the train bombing plot.
"He is the deputy of another militant killed in the clashes," a senior security official told the AFP news agency on Monday.
The official identified the other militant killed as Abu Yazan, the number three of the Fatah Islam group. The official, who insisted on anonymity, said Abu Yazan was directly responsible for twin bus bombings in Ain Alaq, a Christian village in the mountains outside Beirut in February that killed three people.
The two Islamists were among the 10 bodies found in a building in the northern port city of Tripoli after it was raided by Lebanese troops on Sunday.
Fatah Islam has denied having any organizational links to al-Qaida terrorist organization. The group is headed by Shaker Abssi, said to be linked to the former leader of al-Qaida in Iraq, Abu Musab al-Zarqawi, who was killed in a US raid in 2006.
Stability threatened
Germany, current holder of the rotating European Union presidency, called on all parties to show restraint to prevent Lebanon slipping further into conflict after two days of fighting.
"We of course regard these battles between the Lebanese army and armed groups in the Palestinian refugee camps with very great concern and the government condemns the attack on the Lebanese security forces in the strongest terms," foreign ministry spokesman
Martin Jäger said on Monday. "We cannot allow Lebanon to be sucked into a spiral of violence again."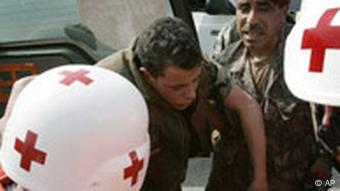 An injured Lebanese soldier receives help from Lebanese Red Cross workers
Lebanese artillery pounded fighters from the Fatah Islam group entrenched in a Palestinian refugee camp near the northern coastal city of Tripoli, an AFP photographer at the scene said.
Fatah Islam has accused the government of trying to launch an offensive against Palestinian camps in Lebanon, which house more than half of the country's nearly 400,000 refugees.
The fighting has killed 55 people dead and renewed fears about Lebanon's stability. It is the worst explosion of violence -- excluding warfare with Israel -- since the 1975-1990 civil war.
"The blows dealt by Fatah al-Islam against the Lebanese army are a premeditated crime and a dangerous attempt to destabilize (Lebanon)," Prime Minister Fuad Siniora said on Sunday.
His Western-backed government has been paralyzed for months by an acute political crisis pitting opponents of former power broker Damascus against pro-Syrian factions.
Humanitarian crisis feared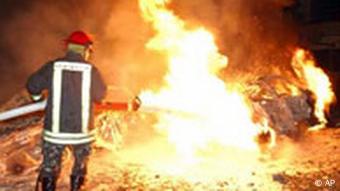 A Lebanese firefighter tries to extinguish burning cars
Lebanese leaders said they would take "all necessary measures" to restore order, while the international community appealed for an end to the violence that continued Monday.
Warships patrolled nearby coastal waters and troop exchanged artillery and machinegun fire with militants.
Officials said they are fearful for the refugees caught in the middle of the fighting.
"We are deeply concerned about the developing humanitarian crisis, particularly the danger to civilian lives," UN Palestinian refugee agency director Richard Cook said.
Doctors describe seeing bodies strewn on the streets of the Nahr al-Bared, which like all other refugee camps in Lebanon remain outside the control of the government and in the hands of Palestinian factions.
Lebanese Red Cross spokesman George Kettaneh told the dpa news agency that they managed to evacuate 11 wounded from the camp after a short lull was observed.
"We will try to evacuate as many people as we can as long the lull allows us," Kentaneh said.