"The United Nations has asked the German government to stay on in its commanding role for another rotation period," foreign ministry spokesman Jens Plötner told a press conference.

"We understand from New York that the request is based on a desire for continuity regarding the mission in Lebanon."

UNIFIL was deployed in the aftermath of Israel's devastating 34-day war last summer on Hezbollah guerrillas in Lebanon.

Its naval component is meant to prevent arms being smuggled to Hezbollah by sea and has been headed since October by a contingent of some 850 German sailors.

Open to request

Chief government spokesman Ulrich Wilhelm said Berlin received the UN request for an extension in April after Chancellor Angela Merkel indicated during a visit to Beirut that Germany would consider such a demand.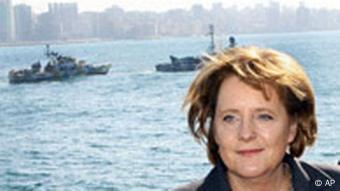 Chancellor Merkel visited the troops off the Lebanese coast
"She made clear that we are open to this request... We received a request on April 23 and we are examining it in a positive light," he said.

A prolongation of Germany's mandate, which is due to expire on August 31, would have to be approved by the cabinet and the lower house of parliament, the Bundestag.

Under the current mandate, Berlin can deploy up to 1,500 sailors, 400 support staff, 100 air troops and 100 training officers off the Lebanese coast.

A foreign ministry official said the UN was seeking a prolongation of six months. The international naval force also includes Danish, Dutch, Norwegian and Swedish sailors.