The two suspected terrorists had placed two suitcases filled with bombs on the trains. Had there not been a mistake in the bombs' construction, German investigators said the planned explosions near Hamm and Koblenz would have resulted in the deaths of hundreds of people and put it on a much larger scale than the terrorist attacks on London subways and buses in July 2005.
Investigators traced the two suspects back to Lebanon.
One of the two men accused of the bomb attempts, Jihad Hamad, is currently being held in custody in Beirut. His parents live in Al-Kobbe, one the city quarters of Tripoli -- Lebanon's second largest city -- which has been ravaged by war and poverty.
Disbelief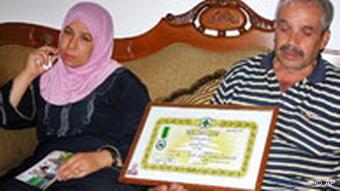 Jihad's parents are at a loss over their son
Shahid Hamad, Jihad Hamad's father, cannot grasp his 20-year-old son's situation.
"I have no idea what happened in Germany," he said. "All I know is that German authorities are investigating my son's involvement in the attempted bombings. I would bet my life on his innocence."
Shahid said that his son is merely a student and not a fundamentalist. He sent his son to a Christian school in Tripoli, not an Islamic extremist one.
Jihad Hamad's parents live modestly -- like many of Tripoli's residents. Employment is high in the city, and prospects for young people in Lebanon are not promising. Shahid decided to send his son to Germany to offer him better opportunities. He and his wife expected him to study in Germany and marry a German woman.
Jihad's uncle lives in Essen, and encouraged him to study here. "You only have to make a one-time security deposit of 7,200 euros ($9,000), and your son can work as he studies in Germany," the uncle told Jihad's father.
"My son was content"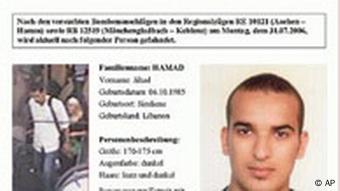 The wrong kind of headlines: Jihad as a criminal suspect at large
Jihad's mother, Bouchra Jaber, likewise cannot believe that her son was involved in the bombing plot.
"My son was very happy staying with his uncle in Essen," she said. "We talked to each other on the phone every few days and he told me everything down to the last detail -- where he shopped and ate, where he went."
Jihad Hamad suddenly turned up at his parents' house in Tripoli shortly after the attempted bombings. Jihad, who had been taking German language classes for six months in Germany, explained his sudden appearance in Tripoli by saying that he was worried about his parents because of the recent war.
He and his parents ended up arguing intensely since Jihad's parents felt that, despite their modest means, they had invested considerable money to enable their son to study in Germany.
Jihad promptly left his parents' house and hid at a neighbor's.
Incriminating evidence
Investigations were meanwhile underway in Germany. On August 19, just days before Jihad's arrest, his presumed accomplice, Youssef Mohamad El Hajdib, was arrested at Kiel's central train station, and handed over to Lebanese authorities a short time later following incriminating DNA tests.
21-year-old El Hajdib apparently lived with Jihad in a Cologne apartment just weeks before the attempted bombings.
Searches of the apartment turned up damning evidence, including both DNA that matched that on the suitcases, as well as receipts for the gas canisters and gas used in the failed bomb plot. Images from surveillance cameras also showed Jihad carrying baggage onto the train at the Cologne train station.
Partial admission of guilt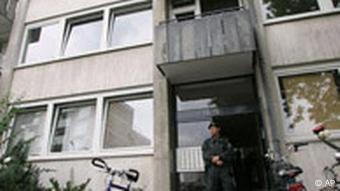 German police found evidence in this Cologne apartment building
Jihad has meanwhile given a partial confession to Lebanese authorities that he deposited a piece of luggage in one of the trains, without being aware of its contents. He has also told investigators that he and El Hajdib researched on the Internet about various bomb materials that could have increased victims' suffering in the planned attacks.
Yet despite all the evidence and Jihad's partial admission of guilt, his parents still believe in his innocence. His mother called him a "loving" person.
She is desperate and accusative. "I sent my child to Germany. The Germans should have taken care of him," she said. "If he ended up getting involved with extremists and they indoctrinated him, then the Germans are responsible for that."
At the beginning of September, the head of the Federal Criminal Police Office, Jörg Zierke, said the publication of the caricatures of the prophet Mohammad in German newspapers may have prompted Jihad Hamad and Youssef Mohamad El Hajdib to devise their plot.
Lebanese Chief Public Prosecutor Said Mirza has accused Jihad Hamad of organizing and attempting mass murder. Should he be convicted, Jihad faces life-long imprisonment and forced labor.
Closer scrutiny of foreign students
According to a magazine report on the weekend, Germany plans to tighten vetting procedures for foreign students as a consequence of a failed attacks.
The weekly Der Spiegel said persons who stand as guarantors for students in their visa applications would be checked out in future in addition to the students themselves and their sponsors.
The duration of residence permits would be cut by half to at least one year and the students would have to report regularly to local government offices, the magazine said in a report released in advance of publication Monday.